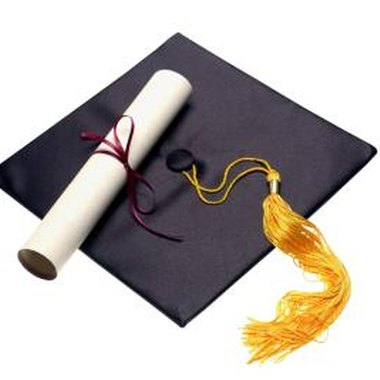 Whether your graduation celebration honors your high school, trade school or college graduate, you want to create a memorable event. Your party provides friends and family with a tangible way to honor the achievement of the graduate and wish her well in the next phase of life. Party decorations and crafts create the right atmosphere to accomplish this purpose.
Banners and Pennants
Make the party banner as a party craft. Cut out large triangles of paper using school colors for pennants on your banner. Invite participants to leave supportive and congratulatory messages for the graduate on the pennants and string them across the room on twine or fishing line. You might start the banner with a printed message in the center such as "Congratulations, Ashley" and then hang the pennants as guests create them. Add ribbons and streamers in school colors on the banner and on the tables. Alternatively, write your messages on mortarboard shapes printed on cardstock with yarn tassels attaching them to the banner line.
Placemats
For a group graduation party, make mortarboard placemats by cutting poster board in half to create 11- by 14-inch sheets. Office supply places may cut these for you, and some will print the mortarboard pattern on the poster, too. Print or glue a mortarboard design in the middle of the placemat and place the graduate's picture in the center of the mortarboard. Add the graduate's name with the graduation date before covering the placemat with clear contact paper. Alternatively, place two of the placemats together back-to-back with the mortarboard sides out and run them through a laminating machine at a teacher supply or office store. Cut the laminate close to the edge of the poster board and the two placemats will separate. Encourage the graduates to use the back of the placemat to write their best wishes.
Honor Board
Honor your graduate with an honor board that celebrates his accomplishments during his school career. List awards and achievements accomplished and include pictures from any award ceremonies. If your graduate earned a scholarship for the next step in his journey, add the scholarship award letter or emblems for the new school. Leave room around the honor board for party guests to leave words of encouragement or best wishes.
Table Decorations
Create a 3-D mortarboard box for your table centerpiece. Decoupage the box lid and sides with pictures of the graduate and school spirit themes. Tell guests they can leave cash or checks in the box for the graduate or notes of encouragement. Make miniature mortarboards and use them for place cards on your table. Roll the napkins like diplomas and tie them with school color ribbons. Invite the guests to make their own mortarboard hats to wear during the party and supply glitter, paints, markers and stickers to decorate the mortarboards. Provide yarn and paper brads or tape to make tassels and attach them to the mortarboards.
Photo Credits
Thinkstock Images/Comstock/Getty Images