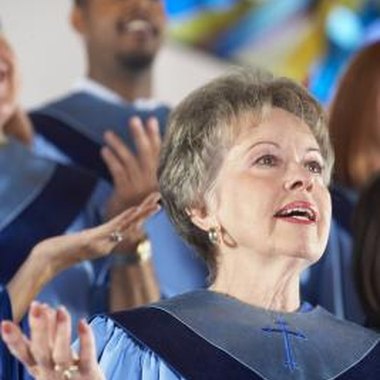 Ireland is a country with a vibrant music scene, part of which includes hosting three gospel choir festivals and additional international choir competitions. Dublin and Kilkenny are home to renowned festivals, while the Rising Gospel Festival changes locations each year. Gospel choir festivals in Ireland often benefit one or several charities or serve as a place for people to meet each other.
Gospel Rising Music Festival
The Gospel Rising Music Festival (gospelrising.com) changes locations each year, bringing with it some of the best choir talent in Ireland and abroad. The festival occurs over a three-day weekend in May, culminating in a finale that showcases some of Ireland's various gospel music styles. Workshops are also open to participants, covering different aspects of gospel choir music, including repertoire, soloist technique and choreography. The founders of the Gospel Rising Music Festival mean to bring together lovers of gospel music from all over the country to learn from each other and build friendships.
Dublin International Gospel Music Festival
A relatively young event, the Dublin International Gospel Music Festival (irishgospelmusicfestival.com) occurs on a single day toward the end of September. The festival seeks to promote the cultural diversity of Ireland, bringing people together from all walks of life. Nationally famous acts, such as the Dublin and Discovery Gospel Choirs, are generally featured. The program also includes workshops that cover topics from choreography to marketing and promotion. The festival is supported by the United States Embassy in Ireland, as well as Metro Éireann, Ireland's first multicultural newspaper.
Kilkenny International Gospel Choir Festival
The Kilkenny International Gospel Choir Festival (kilkennygospelchoir.com) is organized by the Kilkenny Gospel Choir and features acts from all of the world. The festival takes place for a full week in May. The purpose of the Kilkenny International Gospel Choir Festival is to facilitate a cultural exchange in gospel singing. The festival also promotes the albums of the Kilkenny Gospel Choir, the profits of which benefit several charities and organizations.
Other Festivals
In addition to gospel music festivals, Ireland is home to many international choir festivals that include, but are not limited to, gospel music. The International Cork Choral Festival (corkchoral.ie) takes place for five days toward the beginning of May, in which the best amateur choirs compete for the coveted Fleischmann Trophy. In November, choral enthusiasts can travel north for the Sligo International Choral Festival (sligochoralfest.com). Competitions and large acts are also features of the festival in Sligo, as well as others found throughout the country.
Photo Credits
Brand X Pictures/Brand X Pictures/Getty Images