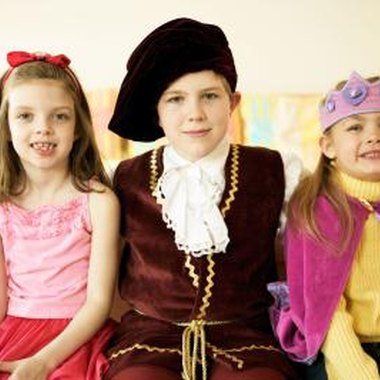 A princess themed party evokes thoughts of pretty pink decorations, sparkling glitter castles and fancy, frilly dresses. If you are planning one of these majestic parties for your little princess, you will also need to think of ideas for goody bags to give to guests. Although items for a princess goody bag may seem like a no-brainer, finding themed treats for boy attendees may be more of a challenge.
Prince Ideas
Although some little boys may not mind princess themed toys and items in a goody bag, some (especially older boys) may shun the idea of "girl toys." To avoid disappointing guests, consider creating a few prince themed bags to go with the princess ones. Look for matching themed bags with some featuring princesses and the others princes. For example, if you choose a cartoon princess bag at a local party retailer, see if the store carries prince bags in the same style by the same manufacturer. Select stickers that feature pictures of princes, a mini-shield or even a pretend play royal scepter.
Middle Ages Theme
Princesses, princes and other royalty dominated the times of the Middle Ages. Through books, movies and other popular media images, many kids have come to associate the princess/prince type with this period in history. When looking for an imaginative solution to creating boys' princess party bags, consider a Middle Ages royalty theme. Choose bags in regal colors such as gold and purple. Fill the bags with chocolate faux gold coins, plastic dragon eggs (with candy inside), prince/princess stampers, inexpensive toy dragons and play crowns.
Crowns
Whether it is a glistening mock diamond encrusted princess tiara or a bejeweled prince head dress, crowns are a play-time favorite of many children. Treat the boy guests at your princess themed party to a goody bag filled with crown-making craft items. Start with a basic birthday bag made from paper or plastic. These are available at most party retailers and online sites. Purchase pre-cut paper crowns or make your own by cutting construction paper into the desired shape. Add in one inexpensive non-toxic, child-safe glue stick and faux jewels or sequins for decoration. Make your own instructions or give tips for crown making and print them out on your home computer. Include a brief description of how to glue the jewels to the crown, sizing it for the child's head and suggestions for more decorations such as drawing on the crown with a crayon or marker.
Characters
The little prince guests at your party may enjoy a colorful character themed goody bag. Although you may think the male guests at the princess bash prefer the Power Rangers to the Disney Princesses, many boys enjoy characters such as Aladdin's Jasmine, Cinderella or the Little Mermaid's Ariel. Select a bag from the cartoon movie and pack it with themed stickers, pencils and inexpensive toys. Many online and in-store party retailers sell packs of themed character princess items specifically for goody bags. If you are in doubt as to the boys' interest in the female characters, add in stickers, stamps or themed toys that feature the princes, animals or other characters of a princess movie.
References
Resources
Photo Credits
Jupiterimages/Photos.com/Getty Images