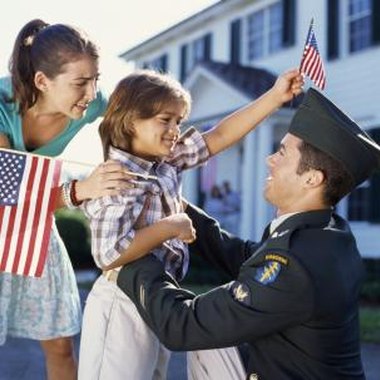 A military theme is fitting for a variety of celebrations -- a welcome home party for a soldier, a Veteran's Day gathering or even a birthday party. No matter what type of event you're planning, your guests will appreciate goodie bags filled with military-inspired mementos to remind them of the bash.
Support Our Troops Keepsakes
Consider including "Support Our Troops" gear such as magnets, key chains and pins. These items are perfect for guests who want to show their support for the military. Kids might enjoy other items such as stickers and bracelets to show their military pride.
Novelty Dog Tags
Customized dog tags can be added as a souvenir for guests to remember the event by. You could customize a dog tag with each guest's name or simply purchase several with the details of the event, for example, "Veteran's Day 2011 Party, Fort Hood."
Branch-Specific Items
To show pride in a specific military branch, include items featuring that branch. Small items include notepads, pens or pins featuring the Army, Marine Corps, Navy, Coast Guard, Air Force or National Guard.
Small American Flags
Miniature U.S. Flags can be rolled and tied with red, white or blue ribbon to fit into a goodie bag. Guests can wave the flags throughout the party as well as keep them as a precious keepsake.
Candy
No goodie bag is complete without a few tasty treats. In order to stick with the military theme, choose candy that's red, white and blue. For example, sort out red, white and blue M&Ms; into small, clear bags and tie them with ribbon.
Resources
Photo Credits
Stockbyte/Stockbyte/Getty Images