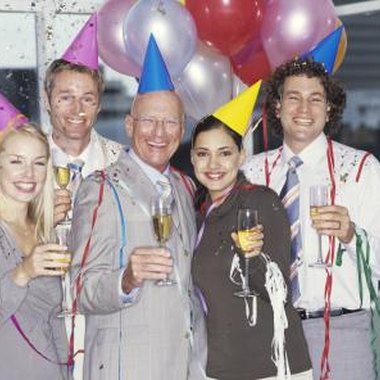 A goodbye party in the workplace can be an occasion for sadness when a good friend leaves or a real reason for celebration when the company tattletale finds a new job. Either way, it's in good taste to send off a fellow employee with a round of festivities that mark the occasion.
Venue
Choosing a venue for a workplace goodbye party is often a matter of preference and budget. Utilize the company break room or an empty conference by decorating it and providing treats for the entire office. That way the party can continue all day, and the other employees can stop by in waves to offer their well wishes to the departing associate. Alternatively, hold the festivities outside the office in a local bar or restaurant during the lunch hour or after work. Order a round of drinks in honor of the one who's leaving, and make a toast to her future success.
Food
Party food for a departing co-worker can range from a store-bought cake decorated with well wishes from the gang and a couple of containers of ice cream to a potluck dinner provided by the other employees. Pass around a sign-up sheet and ask everyone to contribute a dish for the party. Otherwise, invite everyone to stay in that day and order a variety of pizzas with all the toppings or entrees and appetizers from the group's favorite Indian restaurant.
Sentiments
It's always nice to express a sense of regret and well wishes when an associate leaves the workplace. Do this by purchasing a large card and having everyone in the company sign it for the departing worker. For a more elaborate occasion, such as a retirement party for an employee who's devoted years of service to the company, hold a more formal event and allow everyone to verbally express what the employee meant to them with a variety of toasts and speeches. Choose a roast format only if you know the person who is leaving has a thick skin and is not easily offended.
Gifts
While it's not always necessary to purchase a gift for a departing co-worker, it adds a memorable touch to a going away party and shows your appreciation for the one who is leaving. It can be the traditional gold watch for an employee who's retiring after a lifetime of service or a sentimental plaque with phraseology about friendship or success. Choose a less expensive gift like a quality stapler for the employee who was always borrowing everyone else's, a coffee mug with a funny phrase on it or a signature platter that everyone can sign with a permanent marker.
Photo Credits
George Doyle/Stockbyte/Getty Images