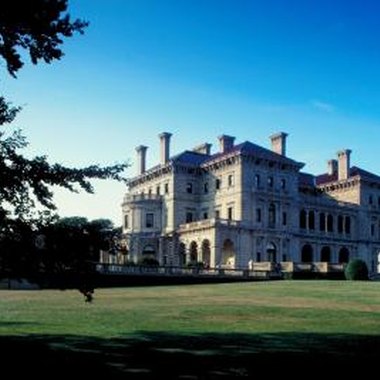 With every birthday comes the excuse to celebrate. In Rhode Island, teens who are celebrating their birthdays have a wide variety of venues to choose from, such as beautiful beaches, ornate ballrooms or activity parks. With such different places, it is easy to select a venue that will serve as the perfect backdrop, from the fanciest affair to a laid back celebration, for your special event.
The Beach
Nestled on the coast of New England, Rhode Island is home to a number of beaches for lively teen parties. At beaches like Napatree Point in Westerly or Goddard Memorial State Park in Warwick, guests take breaks from festivities to splash in the waves or stroll the beach. Partake in beach-side activities, such as eating barbecued food, playing games of volleyball or bocce, strumming acoustic guitars or roasting marshmallows over a bonfire. Other beaches, like Easton's Beach in Newport or Oakland Beach in Warwick, feature carousels and arcades that provide another activity for partying teens to enjoy.
Sports & Games
Celebrate a special occasion by focusing on the teen's favorite sports. Bowling alleys like Sea View Lanes in Newport (no website), Chip's Bowlarama in Pawtucket (no website) or Meadowbrook Lanes in Warick (bowlri.com) provide teens with a fun, competitive atmosphere. Between rounds of bowling, they'll munch on pizza or dance to the music blasted over the speakers. For a baseball fan, organize a party to watch a minor league baseball team, the Pawtucket Red Sox, at McCoy Stadium in Pawtucket.
Dance Spaces
Teens who love loud music, good beats and showing off their moves at school dances will enjoy a party at a venue with a great dance floor. If the budget is not an issue, rent out a ballroom for the teen's party. Venues like the Linden Place Ballroom in Bristol (lindenplace.org/wedding.htm) or the Rhode Island Convention Center in Providence (riconvention.com) are spacious enough for large crowds and boast beautiful dance floors on which teens can dance the night away. Even teens who aren't so crazy about dancing can enjoy the fine food and spending time with their friends.
Activity Parks
Active teens will like the giant water slide at Water Wizz Fun Park in Westerly, or may prefer to celebrate at Adventureland in Narraganset where guests can squirt each other from bumper boats with water cannons or compete in miniature golf or go-kart races. Take a break from the action with refreshments in the park or picnic at nearby Narraganset Beach.
Photo Credits
Jupiterimages/Photos.com/Getty Images