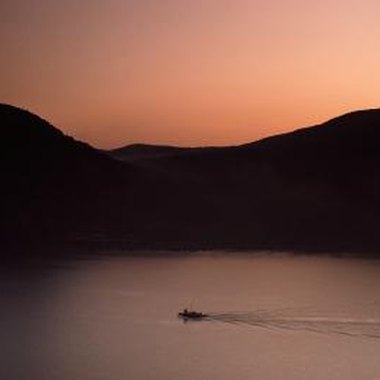 Kingston, a city rich in history, is located along the Hudson River between Albany and New York City. In 1652, it was settled by the Dutch, and in 1777, became New York's first capital. Today, Kingston is a city of about 24,000 residents boasting many parks and amenities. If you find yourself hunting for a Kingston venue to hold a birthday party, consider the age of the guests, how many are attending and whether outdoors might make a better party location.
Forsyth Park/Forsyth Nature Center
Located on Lucas Avenue in uptown Kingston, Forsyth Park has much to offer as an outdoor venue for your party. For instance, it contains a playground, ball field, tennis courts and picnic area. You can reserve the pavilion on the grounds for your party in case it rains on your big day. Located within the park is Forsyth Nature Center (forsythnaturecenter.org). The nature center has 24 animal exhibits as well as a dozen gardens. For a fee, you can book your party at the nature center. An employee will take guests on a guided tour of the center and when the tour is over, you can make use of the center's gazebo for the rest of your celebration. Contact the city of Kingston Parks and Recreation Department (Kingston-ny.gov) for bookings.
Hoffman House
Registered on the National Landmark of Historic Places, the Hoffman House (hoffmanhousetavern.com) is on Front Street in Kingston. At one time, this house served as a lookout against Indian attacks. With its charming wide plank floors and early American Dutch architecture, Hoffman House today can offer a private dining room for your party as long as it consists of at least 15 guests. A birthday party held at this establishment would be well-suited to an adult birthday, particularly a milestone one. Special party menus are available.
Kids' Birthday Craft Parties
Keep kids busy by booking a craft party. Two craft stores located in Kingston contain kids' party rooms and offer birthday packages. Jo-Ann Fabric (joann.com) and Michaels (michaels.com) have everything you need to keep your active crew occupied. Price includes the use of a private room, party set-up and cleanup afterward, supplies needed for craft project, invitations and an instructor to assist attendees with their craft.
Hudson River Cruise Party
Turn a birthday party into something really special by booking a party cruise on the Hudson River. North River Charters (theteal.com) will do all the navigating for you aboard the Teal while you and your guests sit back and enjoy the spectacular scenery along the banks of the Hudson River. The cruise boat offers a full bar for your convenience and can recommend caterers if you would like to have food aboard your party cruise.
Photo Credits
Jupiterimages/Photos.com/Getty Images