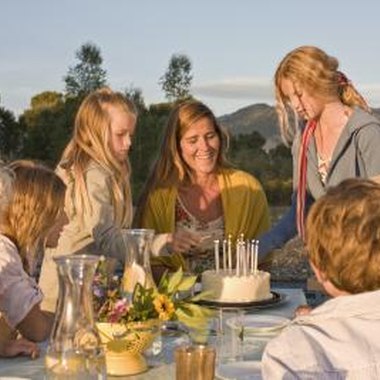 Fairview, Illinois, may lack ready-made birthday party spots, but there are, in fact, many ways to make someone's birthday exciting. Don't just stop at going to a restaurant or making a trip to Canton. Explore the local parks, hire entertainers or send birthday party attendees on a wild birthday adventure around town.
Resturants
There aren't too many restaurants in Fairview, but there is the Fairview Cafe, a small eatery on Carter Street. The Fairview Cafe offers a family environment that is ideal for a group event. There is also the option of an ice cream party at the Fairview Ice Cream Center. Forgo a cake in favor of ice cream sundaes all around, or call ahead to order an ice cream cake.
Parks
There are a few park options near Fairview. Ten miles east of Fairview, Mount Pisgah Country Park provides a picnic area and numerous hiking trails to explore. South of Mount Pisgah County Park is the Harper-Rector Woods Nature Preserve, another gorgeous setting for a birthday picnic. Fairview Ball Park is another ideal birthday spot. Plan an easygoing kickball game or any other sports game that suits the guests. If you choose to have a party in a park, don't forget to bring drinks, food and cake. Better yet, make it a potluck picnic, so the birthday honoree gets the day off!
Backyard
Since Fairview is a small town without many commercial options, have a fantastic party in your own backyard. You can invite a local musician or a balloon twister for entertainment, and even rent a bouncy-house for the kids. Be sure there are plenty of beverages, ask each guest to bring something to grill, and fire up the barbeque. Since having a backyard party is free except for supplies and food, go ahead and get the very best. A custom-made cake from Canton or a surprise entertainment can really spruce up a birthday in a familiar setting.
Get Creative
Don't pick a location for the birthday party - turn it into a treasure hunt, a scavenger hunt or a mountain bike race. Choose a meeting point, and have festivities commence at various points along the birthday adventure. Afterward, have a rendezvous at a restaurant in Canton to share adventures, exchange gifts and show photos of the event. A birthday on the move may not be traditional, but it can make a birthday in a small town more exciting.
Photo Credits
Darrin Klimek/Lifesize/Getty Images