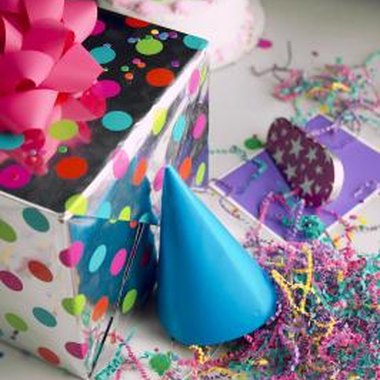 A birthday party for a 1-year-old is more for the parents and guests than for the child. Many types of venues, thus, are appropriate for a party for such a young child. While the 1-year-old needs to enjoy the party, so do the parents and the other guests – both children and adults. There are many stores, parks and party venues in Anaheim where parents can hold a birthday party for their 1-year-old.
Home
The best place to have a 1-year-old's birthday party in Anaheim is at home. A 1-year-old is far too young to be cognizant of what a birthday is, nor of the fact that the party is for him. A home allows parents to hold a low-key party with pizza and cake, and perhaps a few games for family, friends and neighbors.
Disneyland
Disneyland (disneyland.disney.go.com) is the most famous attraction in Anaheim. What makes Disneyland such an appropriate place for a 1-year-old's birthday party is that most children love Disney cartoons. Even though a 1-year-old is too young to develop favorite characters or express an interest in princesses or fairies, she will still enjoy watching the cartoons and playing with Disney dolls and stuffed animals. Young siblings or cousins of the birthday boy or girl will also enjoy a Disneyland day.
Build-A-Bear
Build-A-Bear (buildabear.com) is a store that allows children and adults to create customized teddy bears. A 1-year-old may be too young to build one of these bears, but is not too young to appreciate and love a bear made for him. Build-A-Bear allows parents to schedule parties at the Anaheim location as well as design their own invitations. Other children invited to this party will also enjoy building bears of their own.
Pump It Up
Pump It Up (pumpitupparty.com) is a childrens' party venue located in Anaheim Hills. There are many different elements available for childrens' parties at this venue. Pump It Up provides pizzas and drinks, as well as moon bounces and balloon animals for kids. A 1-year-old may be able to eat pizza in small pieces; though a child that young is too young to bounce on a moon bounce alone, she will enjoy bouncing with an adult chaperon. Balloon animals transcend all ages.
Adventure City
Adventure City (adventurecity.com) is a family-themed theme park in Anaheim. Adventure City's birthday party package includes entrance into the park for a minimum of 10 guests, as well as pizza, unlimited rides, drinks, a children's theater and puppet shows, a children's play area and a petting zoo. All of these attractions are not only appropriate for older children, but also for the 1-year-old birthday girl.
Photo Credits
Hemera Technologies/AbleStock.com/Getty Images