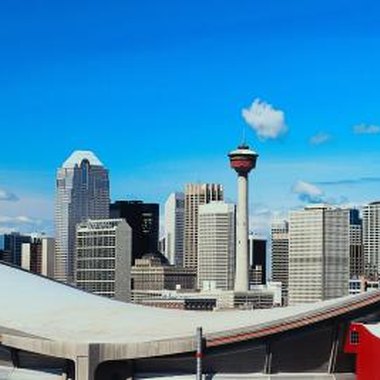 When faced with hosting and entertaining several young guests, planning your child's birthday party has its challenges. You do have options, including leaving your house intact and taking the party elsewhere. Many Calgary businesses catering to children offer birthday activities and packages. Regardless of your child's interests you can plan an off-site party that will delight your birthday boy or girl.
Animal Themed Parties
If your child loves animals, Calgary provides options for pet and animal-themed parties. The Inglewood Bird Sanctuary offers birthday parties for up to 20 guests. A professional guide will educate participants about birds and lead the kids on a guided tour of the nature reserve. Butterfield Acres offers a wide variety of birthday packages with a barnyard theme, including lessons in milking goats, plus pony and tractor rides. Depending on the time of year, you can arrange for your guests to hunt for Easter eggs or pick pumpkins in the pumpkin patch.
Science and Space
Arranging a birthday party at Mad Science of Southern Alberta for the little chemist in your life will blow his mind. This Calgary-based company offers birthday parties led by qualified instructors that allow the kids to participate in fun but educational science experiments. For kids who enjoy learning about space, consider holding your party at SpacePort, located at the Calgary International Airport. Here, party guests can enjoy a simulator ride and learn about space and aeronautics through educational workshops.
Athletics
Let your child and his birthday guests get energized by planning a party with an athletic theme. Book time at the Calgary Climbing Center, an indoor climbing gym that features more than 45 climbing walls. Along with climbing time ranging from one to two hours, you'll have use of the party room. For those who like to work up a sweat on the field, host your party at the Sportsball. Coaches running the party will provide participants with structured and fun activities to enjoy before players break for birthday cake.
Parks
If you're looking for a more low cost option for your child's birthday party consider holding it in one of Calgary's many public parks. Pack a picnic lunch, birthday cake and games for the kids. When planning your party take advantage of city facilities such as splash pads and sports fields. If you're concerned about rain, hold your party at a park with gazebos or picnic shelters in case you need to run for cover during a storm.
Resources
Photo Credits
Jupiterimages/Photos.com/Getty Images