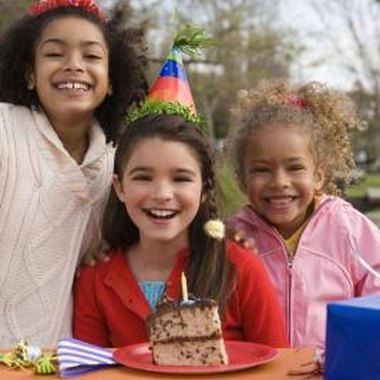 Planning a birthday party for an 11-year-old girl can be time-consuming, and costly as well. Think outside the birthday-present box when brainstorming for good and inexpensive party ideas. Kids this age want a bit of independence, but still rely on adults -- something to think about when planning activities. Cost-efficient party ideas for girls this age are workable for a family bash, an all-girl party or a coed group from school.
Games
Elevate games beyond childish musical chairs. Send the birthday girl and her friends on a scavenger hunt. Have them hunt for items at a neighbor's house, or open your house and backyard to the fun. Quiz the guests on how well they know the birthday girl with a game of "Which Guest Knows Best?" Come up with a list of questions about her -- with her help. Guests write down their answers and, after the honoree gives the correct ones, the guest with the most correct answer wins.
Sewing
Eleven-year-old girls have the maturity and dexterity to complete simple needlework. Buy the birthday girl a small sewing basket and stock it with sewing basics: sewing scissors, a needle set and basic colored spools of thread. Spend time teaching her and her friends sewing basics. Teach girls needlework on small quilt squares. Provide a variety of choices and show how to personalize their work by choosing their own colors and stitches. Have them initial their squares and gather the squares when they finish. Finish sewing a quilt for the birthday girl and present it as a memento of her celebration.
Crafts
Crafts for a girl turning 11 should go beyond simple glue and glitter. Scrapbooking works well because party guests can each make a page at the party. Provide guests with materials and ideas. Add a list of things to include, such as hopes for the birthday girl's future. Assemble the pages into a book at the end of the party. If your girl prefers other types of crafts, give her a beadwork or jewelry-making kit. Find a kit with enough material for multiple girls and it can be a slumber-party activity.
Board and Card Games
Set up a game night, with groups rotating in playing games. Let the birthday child choose her favorite board games and set them up at different tables. Include different card games, such as rummy, as well. Designate certain "learning tables" at which guests can learn a new game from an adult. Play abbreviated versions of games, or provide a time limit, with guests switching game tables after a few turns.
Photo Credits
Siri Stafford/Lifesize/Getty Images