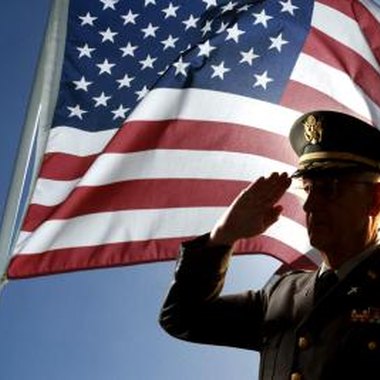 Nearly 25,000 U.S. military troops were scheduled for deployment to Afghanistan during 2011 (Army Times). This means that many service men and women may experience sadness and separation anxiety associated with leaving their family and friends for an extended time. If you have a close friend or relative in the military who is leaving soon, plan a going away party to ease the transition of deployment. Be creative, and add intimate details to throw a party that will send off the honoree with good memories rather than worries.
Food
Finding good food when on a military mission can pose quite a challenge for servicemen. Venturing out to local restaurants is usually not an option because of security issues and access to cooked meals is often limited to the on-base cafeteria. Make good food a focus of your going away party to ensure the honoree has one last great meal before leaving home. Find out the honoree's favorite foods, and offer them buffet style. Or make the party a potluck event by asking each guest to bring one of the honoree's favorite dishes.
Entertainment
Center your entertainment around military themes. Plan a music show with tunes that were popular during war periods such as the 1940s and 1960s. Ask guests to dress in army or civilian garb from these periods and have a karaoke session to serenade the honoree. Or host a military movie party, and show funny military films such as Renaissance Man or M*A*S*H. If you're unsure about military film choices, ask the honoree to name his favorite ones.
Decorations
Decorate according to the branch of military the honoree is in. For instance, if he is in the army, make the party space look like an army base: Set up a green tent, and place the food table inside. Set up American flags and fold-out cots around the space. Place a mannequin wearing an old army uniform in the middle of the are, and place an army hat (purchase from an army surplus store) on each table as a centerpiece.
Sentimental Ideas
Include some sentimental elements in your party. Create a going away memory book by pasting military themed images on a plain-covered scrapbook. Using craft paint or permanent paint markers, write a title on the front of the album, such as "Going Away Memories" or "You Will Be Missed." Obtain a photo or memento from each guest prior to the party, and arrange them in the album. Leave a few pages for guests to write personal messages while at the party. Present the finished book to the honoree at the end of the event. The honoree can take the scrap book on his mission to remember all the friends and family who are waiting to see him again.
Photo Credits
Thinkstock/Comstock/Getty Images