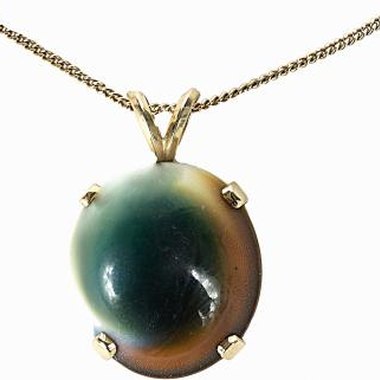 Opals are an entirely unique stone with no two opals having the exact appearance. Opals come from the Greek word "opallus," which translates to "to see changes of color," states the opal-centric website Costellos. If you make your own jewelry, including opals into your designs is a surefire way to create striking, eye-catching pieces. Regardless of whether you use a Tiffany prong or a rim set, using a dab of glue when you're mounting the opals is a wise idea to keep these luminous stones secure.
Items you will need
Hot glue gun

Newpaper

Glue stick for gun

Scrap fabric

Mounting

Opal
Step

1
Lay a sheet of newspaper or a drop cloth over your work space. Plug in your hot glue gun.
Step

2
Insert a glue stick into your hot glue gun once the light on your hot glue gun has illuminated. Squeeze the trigger of your hot glue gun onto a scrap of fabric to test that it's working properly.
Step

3
Squeeze the trigger and allow a dab of glue to fall onto the inner part of your jewelry mount, directly in the center. The dab you squeeze out should be approximately half the size of the opal you will be using.
Step

4
Press the opal directly into the glue on the mount and hold the opal in place for three minutes until a bond has formed. Allow the glue to dry overnight for complete setting.
References
"Beading Vintage-Style Jewelry: Easy Projects with Elegant Heirloom Appeal"; Marty Stevens-Heebner, et al; 2007
Photo Credits
Zedcor Wholly Owned/PhotoObjects.net/Getty Images