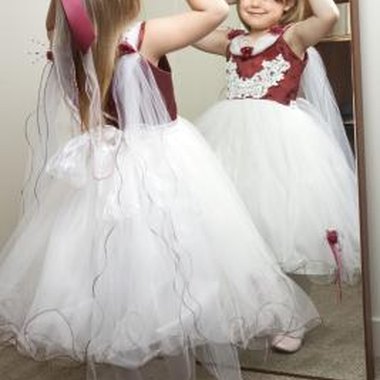 Pageants for girls of almost every age exist in various locations throughout Texas. Some pageants allow the winners to move on to larger regional, state or national pageants while others give recognition to a girl in her own area. Families and communities frequently support the pageants because many pageant winners receive gifts and scholarships. For others, a pageant is a fun way for a girl to connect to her community.
City Pageants
Pageants are run in various localities for girls and young women who live or go to school in a specific region. The Miss San Antonio Texas and the Miss San Antonio Teen Pageant are held annually for San Antonio area girls and young women. Winners may go on to compete in the Miss Texas USA and Miss Texas Teen USA pageants. Miss San Antonio Texas accept applications from women ages 18 through 26 and Miss San Antonio Teen Pageant accepts applications from girls ages 14 to 19. The Miss Dallas pageant offers young women ages 17 to 24 the opportunity to compete, and those from 13 to 17 to be teen contestants. Contestants have private interviews, perform in a talent contest, model bathing suits and evening wear and answer an on-stage question.
Ethnic Pageants
Girls and young women who want to compete in a pageant with others from their own ethnic groups also have options. Black All-American Pageant Systems produces the Miss Black Texas USA pageant, Texas's official pageant for the Miss Black USA Organization. Teenage girls from 13 to 18 compete in the Miss Black Texas USA Talented Teen Pageant and girls from 10 to 12 compete in the Miss Black Texas USA Pre-Teen Pageant.The Miss Texas Latina and the Miss Teen Texas Latina pageants invite Texas Latinas to compete for a crown. The winner of the Miss Texas Latina pageant advances to the Miss Latina USA contest and can, if she wins, represent the United States at the Miss Latin America of the World Pageant.
Pageants for Young Girls
The International Girl Youth Development pageant offers the opportunity for girls to compete on local or state levels. The pageant provides prizes for different titles, including beauty, talent, photogenic, personality and talent. Divisions for young girls from infant to age 18 include Baby Miss, Tiny Miss, Petite Miss, Little Miss, Young Miss, Junior Teen and Teen Miss. The Miss Pearls Debutante pageant, with divisions for younger and older teen girls, uses the pageant as a vehicle to encourage trustworthiness, respect, responsibility, caring, fairness and citizenship and highlight "inner beauty." The pageant also includes Junior Miss Pearls Debutante and a Petite Miss Pearls Debutante pageants. Girls receive recognition for academic achievement, public speaking and leadership skills and civic engagement. Winners receive scholarships.
Holiday Pageant
Texas localities run pageants as part of holiday celebrations. The Texas Southern Belle Pageant runs a Halloween pageant with divisions for girls from birth through 19 years old. The Halloween pageant allows parents to enter their daughters for judging in a variety of categories including outfit of choice, sportswear, photogenic, portfolio, best dress, most beautiful, loveable, cover girl, prettiest eyes, prettiest smile, prettiest hair and best personality. The Miss Merry Christmas Pageant is open to girls from birth through 19. Competition categories include casual wear, formal wear and, for ages 4 and up, onstage introduction. The competition takes place in Fairview, Texas.
Photo Credits
Thinkstock/Comstock/Getty Images