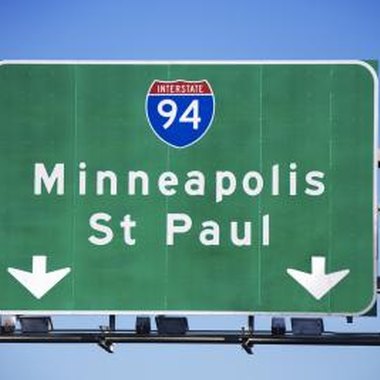 Girlfriend getaways are a chance to hit the road, cut loose and bond with your friends. Minnesota is a large and diverse state that offers plenty of different kinds of opportunities for girlfriend getaways. To pick one, consider how far you want to drive, whether you'd prefer a more urban or rural location and where you'll be comfortable in the season when you plan to be going.
Celebrate in the Twin Cities
The Twin Cities of Minneapolis and St. Paul are great to visit for a weekend or longer. You and your girlfriends can enjoy terrific restaurants, museums, bars and theater productions. There are also plenty of lakes and natural areas in or a short drive from the cities. Visit the Mall of America in Bloomington, Minnesota, just 15 minutes from downtown Minneapolis and St. Paul. The mall contains an amusement park, movie theater, aquarium and numerous restaurants. It is so large that seven Yankee stadiums could fit inside!
Go Skiing in the Northwest
Minnesota's northwestern corner becomes a rustic wonderland in the wintertime. It's a perfect getaway for women who cross-country ski or for those who can appreciate the simple pleasure of a cozy evening by the fireplace with friends. Maplelag Resort in Callaway offers trails, saunas, hot tubs, group meals and even a Saturday night talent show and dance. Visitors can also go in warmer months for hiking, mountain biking and swimming at Detroit Lake.
Have an Outdoor Adventure from Duluth
Duluth is an attractive town, with nice shops and restaurants. It makes an ideal gateway for the North Shore, an area along Lake Superior with gorgeous waterfalls, lighthouses and wooded and rocky shoreline. If you're looking to get some exercise, you'll find plenty of beautiful hiking and biking trails to enjoy with your girlfriends. Otherwise, just find nice spot to sit, chat and enjoy the lovely views together.
Antique Along the Mississippi
A string of cute historic towns run along the Mississippi River in southeastern Minnesota. In many of these towns, including Red Wing and Winona, you'll find great shops where you can spend hours searching for unique antiques with your girlfriends. Keep your eyes open for Scandinavian heirlooms and Red Wing pottery. Stop in to each town's Visitor's Center, and don't miss the beautiful Mississippi views.
Photo Credits
Jupiterimages/Comstock/Getty Images