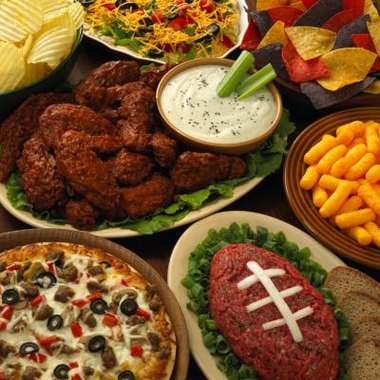 Whether you are hosting or attending a football-themed party, gifts are bound to be passed out. It may be a child's birthday party or a get together to watch an NFL or college football game. Party favors can be given to guests or guests can bring a gift to thank the host.
Favors for Kids
Don't let the guests at your child's football-themed birthday party go home empty-handed. Give each party guest a football-related party favor as a parting gift and a way to thank each child for attending. Select small favors like football-shaped whistles, water bottles, clackers, sunglasses or even tambourines. You can also give miniature footballs or football helmets that can serve as a keepsake. Put the favors you select in individual gift bags for each guest and add candy or tissue paper as a filler.
Favors for Adults
Treat your adult guests at your football-themed party to football favors. The favors can reflect the sports team you are cheering for if you are hosting a party where everyone is tailgating, attending or watching a football game from home. Give each guest a miniature megaphone to yell at the refs or support the team. Your adult guests may also appreciate drinking-related favors like bottle openers, tailgating coolers or personalized beverage holders. If you really want to go all out, draw names from a hat and give the guest whose name you select tickets to a football game.
Gift for Child Party Host
Give a birthday boy who is having a football-themed party a football-related gift to celebrate his special day. Find out his favorite football team and give him a jersey, hat or pair of pajamas that features his team or even favorite player. If he has a video game system, give him the most recent version of the "Madden" NFL video game. Another option is to give him a gift to decorate his room like a poster, comforter, pillow, lamp or bean bag chair with footballs or a sports team logo on it.
Gift for Adult Party Host
Thank the host of the football-themed party you are invited to by giving him a gift that suits the occasion. Bring food or beverages for everyone to share. Ideas include beer, wine, soda or water bottles as well as a homemade dip, chicken wings, pizzas, puppy chow, cookies or a fruit or vegetable tray. You can also bring chips and dip in a football helmet serving dish that you can give as a gift. If the host plans to grill out, give him a grill cover that features the logo of his favorite football team.
Photo Credits
Jupiterimages/liquidlibrary/Getty Images