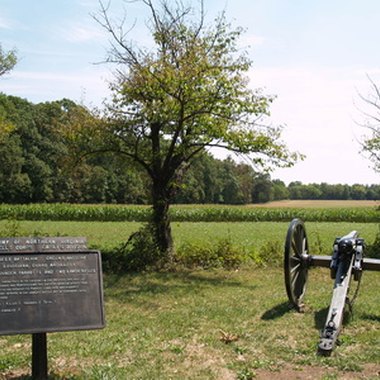 The significance of Gettysburg, Pennsylvania, in the American Civil War can be witnessed throughout the town. This quaint community was the site of the Battle of Gettysburg, a major turning point in the war for the Union Army. Tourists in the 21st century encounter relics from the 1863 battle during walks through the historic downtown district. Gettysburg is also home to hotels and inns dating back to the 18th century that reflect the city's history.
18th Century Hotels
Travelers experience some of Gettysburg's pre-Civil War history at properties like the Brafferton Inn. This bed and breakfast features 18 guest rooms and suites in four buildings dating back to 1786. Guests at the Brafferton Inn head to the parlor for afternoon cookies and hot beverages throughout the day. The Best Western Gettysburg Hotel welcomes guests with a white-pillared exterior maintained since 1797. The hotel's Grand Ballroom presents decor and memorabilia from the Gettysburg National Bank opened in 1814. Tourists are able to sit down for steaks and seafood at Centuries on the Square adjacent to the lobby.
Antebellum Hotels
Gettysburg features several inns built during the antebellum or pre-Civil War period that survived the Civil War. The Battlefield Bed & Breakfast contains 30 acres of farmland, a petting zoo and guest rooms adjacent to Gettysburg National Military Park. This property built in 1809 includes the Swan Cottage, a honeymoon suite with framed photos and antique furniture. The James Gettys Hotel constructed in 1804 provides guest services ranging from pillow menus to tour arrangements. Guests can purchase gifts at Lord Nelson's Gallery in the lobby before sitting down for dinner at the neighboring Blue Parrot Bistro.
Victorian Hotels
Hotels like the Brickhouse Inn were built as Gettysburg recovered from the Civil War in the Victorian Age. Each room at this 1898 hotel combines 19th-century antiques with 21st-century features like satellite television. Guests enjoy the outdoors with daily breakfast on the outdoor patio and relaxing sojourns to the hotel garden. The Gaslight Inn, constructed in 1872, houses nine rooms like the Lily Room, which ensures guest relaxation with a fireplace and outdoor deck. This inn celebrates its Victorian past with a pair of parlors featuring original flooring, chandeliers and shelves.
20th Century Hotels
Tourists interested in Gettysburg's recent history select from several hotels built in the 20th century. A Sentimental Journey Bed & Breakfast honors World War I and II veterans with the Aces High Gallery in the lobby. This inn, built in 1928, maintains five guest rooms, one of which is the Flying Tiger Room -- adorned with relics from World War II. The Doubleday Inn Bed & Breakfast is a converted home from 1939 located next to the Gettysburg National Military Park. Guests are transported to the 19th century with antiques in each room and weekly informational sessions with Civil War experts.
Photo Credits
Army of Northern Virginia - Gettysburg image by Grünig Frank from Fotolia.com