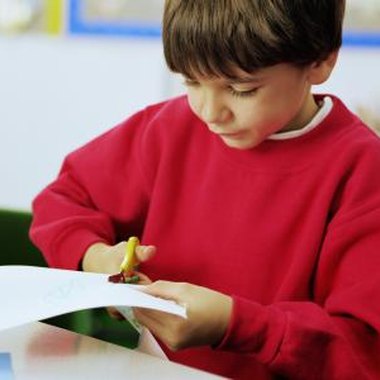 Scherenschnitte, pronounced sharon-sh-net, is the German word for paper snipping or cutting. This intricate art form is similar to paper cutting in other cultures, such as in China, Japan and Mexico. While this is considered a high art form, there are ways to recreate the feeling of a scherenschnitte without being a trained artist. Try creating one with children, using any paper you have on hand, as well as scissors or a utility knife.
History
In the early 1800's, German and Swiss immigrants fled to the United States to escape religious persecution and settled in and around Lancaster County, Pennsylvania. Scherenschnitte, the art of paper cutting, was brought to the United States by the immigrants. Lancaster County, Pennsylvania is still thought to be the center for paper cutting artistry today. You will see this art form in Pennsylvania Dutch art and craft fairs, as it is still an important part of Amish and Mennonite heritage
Culture
Amish and Mennonite cultures use Scherenschnitte for love letters and wedding announcements. In the 1600's, the Germans were using a folded paper method for Scherenschnitte. This popular method for creating the art resulted in elaborate Valentines and with hand lettered words of devotion and love. For this reason, people in the Amish and Mennonite communities often use very intricate forms of Scherenschnitte when creating wedding invitations. Artisans use tiny sharp utility knives to carefully cut their intricate designs into each invitation.
From Simple to Intricate
Scherenschnitte can be as basic as a chain of paper dolls holding hands or as intricate as a silhouette with animal shapes, scrollwork and vines. Some of the most intricate Scherenschnitte is created as a silhouette, with black paper laid over colored or white paper. The black paper contains all of the cuts, usually an intricate design of scrollwork, vines, people or even words. The black cut out paper is then laid over the lighter shade and framed.
Creating Scherenschnitte
There are several ways to create a Scherenschnitte. When working with children, the easiest way is with folded construction paper and a pair of safety scissors. Fold the paper as if you were going to make a paper snowflake and allow the child to make several cuts. Experiment with different types of paper such as heavy cardstock, construction paper or even a coffee filter. Draw the design in the middle of the paper and use scissors to cut it out. Be sure to leave the outer edges of the paper intact, as this will act as a frame for the intricate design in the middle of the page. As children grow or become more interested in this intricate art form, you can begin to introduce other methods of creating Scherenschnitte. Try laying a piece of black paper over a block of wood and using a utility knife to create scrollwork and vines. This will create a more traditional silhouette style Scherenschnitte.
Photo Credits
Katy McDonnell/Digital Vision/Getty Images