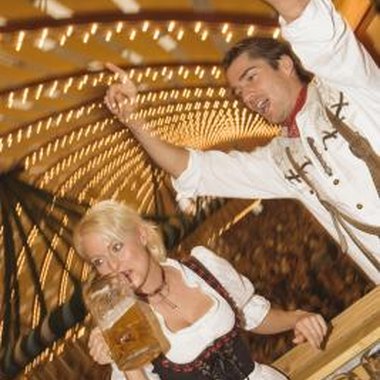 Oktoberfest is traditionally held in Munich, Germany. It includes giant steins of beer, dirndl wearing beauties, and a jovial oompah band playing in the background. Given that the English are not shy about their love of beer and a good time, it is no surprise that festivals akin to Oktoberfest have gained popularity. These festivals offer all the joy of a traditional Oktoberfest from beers to bratwurst.
Southhampton German Beer Festival
Southampton, England, holds its annual German Beer Festival in June. The Southampton German Beer Festival (beerfestuk.co.uk) includes live oompah music, vocalists, magic and a photographer. Maidens dressed in traditional German clothing dish up German style fare at the festival. Sausages, schnitzels and steins of real German ale such as Bitburger, Flensburger and Erdinger are on the menu. The event takes place in Hoglands Park in a "bier halle" set up just for the occasion. Tickets may be purchased at the event or online via Paypal.
The London Bierfest
The London Bierfest (londonbierfest.com) began in 2003 and has served over 30,000 guests since then. The three-day event is held October at the Old Billingsgate Market in London. Attendees may book a table package in advance, which includes 10 seats at a table, unlimited Bitburger German beer, traditional German dishes such as Bavarian spiced chicken and leek sausages served at your table, an oompah band and other live act performances on stage. Servers are dolled up in German attire and will encourage you to do the chicken dance.
Oktoberfest in London
The Oktoberfest in London (bavarian-beerhouse.co.uk) festival is presented by the Bavarian Beerhouse at its two locations in London. The festival began in 2004 and has grown to be the largest beer festival in the UK with over 100,000 guests. The event lasts six weeks, from September to October. Dirndl-wearing waitresses offer German beers in large stein glasses. Oompah bands are flown in for the event, and guests are encouraged to eat, drink and dance on the benches.
Great British Beer Festival
The Great British Beer Festival is not set up in a Bavarian Oktoberfest style, but certainly offers a variety of German made beers. The event includes Bières Sans Frontières (gbbf.camra.org.uk/bsf), a group of bars that participate in the event and offer the finest beers from around the world. A special section of the Great British Beer Festival is devoted to German and Czech beers. The event is held in August in pubs throughout Earl's Court, London.
Photo Credits
Polka Dot Images/Polka Dot/Getty Images