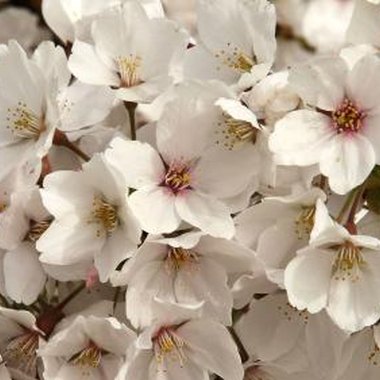 Whether you're looking for a way to celebrate our independence, or want some good old fashioned Southern-style cooking, Georgia has a festival to strike your fancy. Celebrations around the state include those that highlight Southern traditions, cater to kids and families; take place in natural settings, and benefit communities.
Celebrating the South
Several festivals in Georgia celebrate the U.S. South The Kingsland Catfish Festival (kingslandcatfishfestival.com) started as a small Labor Day event in 1983 and has grown to attract more than 65,000 people every year. Attendees can visit with mascot Cecil the Catfish, buy arts and crafts from more than 100 vendors and enjoy Southern culinary specialties such as hush puppies, fried catfish and grits from 30 food vendors. For Southern-style barbecue, the Lake Oconee BBQ Classic (lakeoconeebbqclassic.com) is held for two days in Greensboro every September. Cooks check in on a Thursday, then spend Friday and Saturday cooking up their favorite barbecue. In addition to good food, attendees enjoy live music, arts and crafts. As a tribute to the rural south, Abbeville is home to the Redneck Circus (theredneckcircus.com) over Labor Day weekend. Nearly 5,000 festival-goers enjoy monster trucks, mud wrestling, country music, lawnmower races, ATV mud bogs, contests and games.
Kid-Friendly
Kids are welcome at most festivals in Georgia, but some are more kid- and family-friendly than others. Dublin is home to the family-friendly Dublin Laurens St. Patrick's Festival (dublinstpatricks.com). Going strong for more than 45 years, the festival stretches for one month -- from late February to late March, appropriately ending around St. Patrick's Day. With 39 events including a BBQ cook-off, a road race, a balloon fest, a parade, an art show, a gospel sing and a golf classic, every member of the family will have something to enjoy. Children are sure to enjoy the Lake Oconee BBQ Classic in September because there is a Kids Zone with water slides and a bounce house. Admission si free for kids 12 and under. The Lake Country Freedom Festival (lakecountryfreedomfestival.shutterfly.com) on the 4th of July at Crooked Creek Marina in Eatonton also has kids in mind. Activities are planned throughout the day for all ages. You can listen and watch live entertainment, shop at arts and crafts vendors or enjoy the Kids Zone. The day caps off with a fireworks display. Food vendors are set up to provide refreshments, and the non-profit festival benefits Camp Kudzu, a camp that serves children living with Type 1 diabetes.
Nature Focus
Enjoying nature is the theme of several festivals in the state. In Macon, Georgia's International Cherry Blossom Festival (cherryblossom.com) celebrates the flowering of more than 300,000 Yoshino cherry trees. For 10 days in March, festival-goers enjoy the sights in this town that's known as the "Cherry Blossom Capital of the World." Specialized events, such as concerts, take place at locations throughout town. The Yellow Daisy Festival (festivals.stonemountainpark.com) is held at Stone Mountain every September. It combines an arts and crafts show in a natural setting with booths set up along wooded trails. More than 400 crafters from 38 states display their wares over the four-day event. The Georgia Colonial Coast Birding and Nature Festival (no website; Jeckyll Island; 1-877-4JEKYLL) connects people with the thousands of feeding birds and butterflies that live along the Georgia coast. The event is held on Jekyll Island in October. The purpose is to unite bird and nature lovers and provide education to the public about conservation of Coastal Georgia's habitats.
Helping Charities
While many of the proceeds from festivals go toward planning next year's event, some of Georgia's events specifically benefit charities. Proceeds from the International Cherry Blossom Festival in Macon benefit the American Cancer Society. The Lake Oconee BBQ Classic donates all earnings to Childrens Healthcare of Atlanta. The Powers' Crossroads Country Fair and Art Festival (www.powersfestival.com/) in Newnan includes a three-day concert for charity. Twelve thousand people attend this Labor Day weekend event. Every year, proceeds are donated to local charities, including the 4-H Boys and Girls of Coweta County and the Chamber of Commerce.
Photo Credits
Alex Wong/Getty Images News/Getty Images