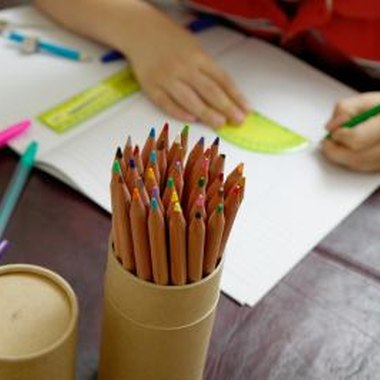 Create a geometry scrapbook to explore the intricacies of geometry with the help of real-life images. Whether you choose to place students in groups where each student is responsible for a single page, or encourage students to create their own books, a geometry-based scrapbook is an interactive project that can also be done at home. Tailor the project to the age group of the students. For younger students, have cutouts of each image pre-cut and have them glue the images in place.
Instructions
Pull out the scrapbook supplies and arm students with a list of the geometric principles to find. Include principles such as triangles, rectangles, parallel lines, congruent objects, tessellations and solids like cones, spheres, prisms, pyramids and cylinders. Instruct students whether they need to reserve one page per item or if they will be creating a collage out of all items. One idea is to have sample images pinned up on a bulletin board for easy reference.
Photos and Cutouts
Weather permitting, take a field trip out into the school yard to take photos of geometrical objects. Encourage students to seek out their own representations of the images required. Or, set up a series of objects the students can take turns photographing. Miniature replicas of spheres, cylinders, prisms and other shapes can be configured together or separately. Magazines, newspapers and pamphlets offer an abundance of images students can you to create original pages. Mix and match photos and clippings to find each of the geometric images.
Layout
Design a layout for each page with a brief description of each shape. Students can use colorful swatches of paper as a backdrop for the pages. Provide the classroom with an array of papers printed with geometric patterns. Demonstrate basic scrapbook layouts for students. Ideas include making windows, adding envelopes, making miniature books and adding them to the pages. Students can also illustrate any images they could not find. Use pencils, pastels, colored felt pens, water color paints and crayons for the artwork.
Embellishments
Once the layout is ready, students can glue everything in place. Finish the scrapbooks with a series of embellishments. Ribbons, stickers, buttons, cutouts and other scrapbooking supplies can be used to enhance the books. Rubber stamps can be used to stamp out titles. Whether the project was completed individually or as a group, students will remember the ins and outs of geometry with their scrapbooks in hand. To make use of the scrapbooks at a later date, have students leave a blank space on each page, which they can fill with tidbits of information at the end of the unit.
Photo Credits
Ableimages/Photodisc/Getty Images