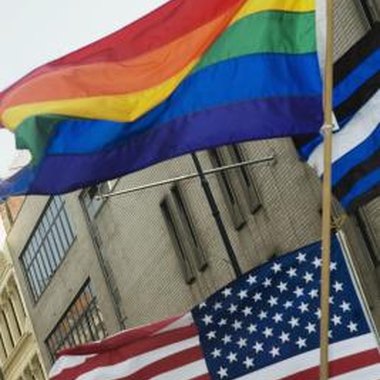 "Gay pride" commemorates the Stonewall Uprising of 1969. Stonewall is widely accepted as the birth of the modern lesbian gay bisexual transgender (LGBT) rights movement. Although New York City Pride is the most popular and famous of gay parades in New York, there are several events across the state. The regular celebration in Manhattan is generally held the last weekend of June, with other events around the state held on alternate dates, to not conflict with the largest parade.
Albany
Albany, New York is the state's capital, located 150 miles north of New York City on the Hudson River. The local LGBT community is represented by the Capital Pride organization. Although the city has less than one million residents, it is home to an organized and strong LGBT community. The Capital Pride Parade is held every June. Albany is also home to "Say it Loud! The Black and Latino Pride Parade." The two events are held on separate dates so all can participate in both parades.
Upstate
Along with Albany, there are two other formidable gay pride organizations in what is known in Manhattan as "Upstate New York." Each one sponsors an annual gay pride parade. The Gay Alliance of Genesee Valley produces a pride picnic, festival and parade. The parade goes through the city streets of Rochester each June. The Pride Center of Western New York hosts a gay pride parade in the city of Buffalo, New York. Buffalo is also home to an annual dyke march in the same festival period as the gay pride parade.
Brooklyn and Queens
Both boroughs of Brooklyn and Queens are home to their own gay pride parades and festivals. Brooklyn Pride marches through the Brooklyn Heights area once a year in June. In Queens, 50,000 people regularly attend the Queens Pride Parade that goes through the Jackson Heights neighborhood. Both Brooklyn Pride and Queens Pride are on different days so residents from both boroughs can attend both parades and events if they choose. Both parades are followed by entertainment and festivals.
Pride New York City
One of the world's largest gay pride parades happens at the end of every June. NYC Pride goes through lower Manhattan to hundreds of thousands of revelers. The committee considers the event a march rather than a parade, to acknowledge that their movement still has ways to go. The entire weekend of gay pride in NYC is full of events and festive gatherings. The march begins on Sunday of Pride Weekend. The March Committie gives several awards including best use of theme, most original award, marching contingent award, best decorated vehicle and best musical contingent award.
Photo Credits
Medioimages/Photodisc/Valueline/Getty Images