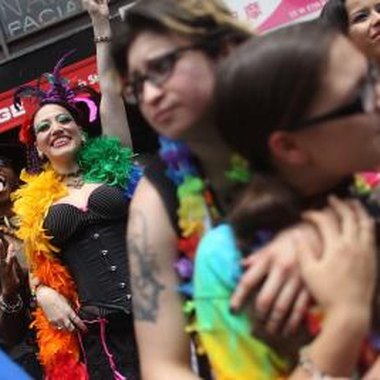 According to Chiff.com, the gay and lesbian pride movement originated in New York City during the 1970s. So it's fitting that the city still plays host to an annual gay pride parade during the last Sunday in June. The parade wraps up an annual Gay Pride Week celebrated by gays, lesbians and members of the community.
The Parade
The New York City Gay Pride Parade, or Pride March, closes the city's annual Pridefest celebration. It begins at noon on the last Sunday of June at 36th St. and 5th Ave. and ends at Christopher and Greenwich Streets. The parade began in 1970s as a civil rights movement for gays and lesbians, one year after the Stonewall Riots, which, according to Columbia University, marked the beginning of the gay liberation movement. The parade is free to participate in and free to attend. It carries a different theme and honors different Grand Marshals each year.
Atmosphere
When the Pride March began in 1970, its somber intention was to commemorate the gays and lesbians who suffered police violence during the Stonewall Riots. Today, it's an upbeat, fun and festive event, according to Chiff.com. According to the site, it draws around one million participants and spectators annually. They come in creative and spirited costumes and outfits to express themselves. The only limitation participants and attendees are required to abide by in their attire is no nudity below the waist, which is a New York State law.
2011
The year 2011 was a monumental year for the annual Pridefest. That's because on June 24, 2011, same-sex marriage became legal in the state of New York after the Senate passed the bill with a 33 to 29 vote. The annual Pridefest Pride March occurred two days later, on June 26, to close out the week, the passing of the bill making the event extra special. Its parade theme for 2011 was synonymous of the state's vote: "Proud and Powerful."
Other Events
Although the highlight of Pridefest is the parade, it's hardly the only activity during the week-long celebration. There's the LGBT (Lesbian, Gay, Bisexual, Transgender) Pride Rally in Central Park, which features performers and motivational speakers to ring in the annual Pridefest. There's also the Rapture on the River Women's Dance Party. Additional events include the Dance Party on the pier of the Hudson River, which features entertainment and drinks and lots of other street vendors and live entertainment throughout the week.
Resources
Photo Credits
Mario Tama/Getty Images News/Getty Images