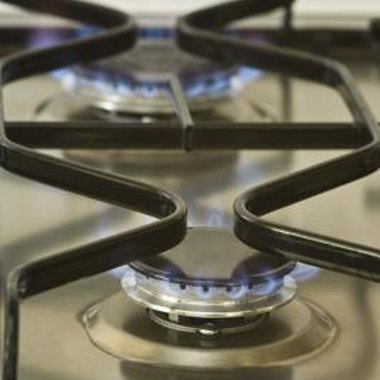 There are a number of programs available to assist low-income or special needs customers with their gas bills. The largest is the federal LIHEAP program. Most gas companies administer their own programs, usually partnerships between the utility and nonprofits like the United Way. Most of these programs involve a direct grant to eligible customers, while others offer discounted rates or assistance with weatherization.
Low-Income Home Energy Assistance Program
LIHEAP is a federal program administered in California by the Department of Community Services and Development (CSD). The program's main feature is a grant program that provides a direct payment to the eligible client's utility bill. In addition to these standard grants, the program offers emergency grants to low-income households facing immediate termination of service, as well as a weatherization program providing free energy efficiency upgrades. Eligibility information is available through the CSD or the local gas company.
California Alternate Rates for Energy (CARE) Program
CARE is a program administered directly by utility companies. Eligible households are given a 20 percent discount on monthly gas bills. New customers can also qualify for a $15 discount on their service establishment charge. Applications can be made through utilities such as the Southern California Gas Company or San Diego Gas & Electric.
Medical Baseline Allowance
The Medical Baseline Allowance program, administered by both Southern California Gas and San Diego Gas & Electric, offers subsidized rates to customers facing a life-threatening illness or with serious disabilities. Also eligible are seriously ill customers whose condition requires them to heat their homes at a higher temperature.
Energy Assistance Savings Program
Supplementing the weatherization services provided by LIHEAP, both major gas companies in Southern California offer their own package of no-cost energy saving measures. These services include insulation, window and door repair and high-efficiency washers.
Additional Emergency Assistance
Both local gas companies administer additional programs providing one-time emergency grants. These programs have limited funds and may run out at any time. Southern California Gas has a Gas Assistance Fund, which is run as a partnership with the United Way and other nonprofits. San Diego Gas & Electric has a Neighbor-to-Neighbor Fund for customers experiencing temporary financial hardship.
Consumer Protections
In addition to the assistance programs outlined above, there are strict regulations governing termination of service, especially during the winter. Consumer groups like The Utility Reform Network (TURN) can provide customers in crisis with needed information and advocacy.
Photo Credits
Jupiterimages/Comstock/Getty Images