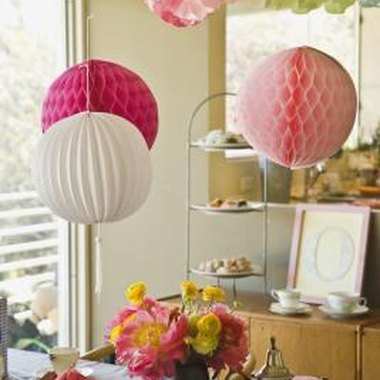 With the sweet scent and soft colors, a flower garden provides a beautiful backdrop for a baby shower. Celebrate the arrival of a new baby and the splendor of nature with a garden-theme baby shower. With dainty details and lots of flowers, you can decorate beautifully for a garden-theme baby shower.
Flowers
It wouldn't be right to have a garden-theme party without an abundance of beautiful flowers. Write the guests' names on small terra cotta pots filled with blossoming pansies or petunias to make a charming place setting that also adds some color to the space. Place bouquets of brilliantly colored flowers on the dining table, coffee tables, countertops and other surfaces. Decorate the guests, too, by letting the guests wear corsages of fresh flowers.
Table Decor
Decorate the tables in soft colors and floral prints. Adorn the table in a tablecloth in a pastel, such as a subtle white-and-yellow damask or a pale blue checkered pattern that lets the flowers receive attention while decorating the table in a charming way. Stick to simple white dishware and crisp white napkins. As drinking glasses, canning jars make rustic country beverage containers. Slide a fresh strawberry or citrus slice into the jar to add more color to the drinks.
Lighting
Decorative lighting brightens the space and can add an exciting element. Hang paper lanterns of different shapes and colors, from ornate red-and-gold stars to yellow spheres, around the venue to add both light and color to the space. Spread an assortment of candles in various shapes and sizes over the tables or on other places, such as a fireplace or mantle. The variety of candles will have a charming, eclectic look, while giving off a warm glow.
Food Displays
Food isn't just for eating: it can also become a significant part of the decor. Select dishes in a wide variety of colors to reflect the spectrum of shades found in a garden, such as vegetable salad, fruit kabobs and colorful salsas. Sweet treats, such as cupcakes or cookies, can be decorated with icing and other colorful decorations to resemble flowers. Place the food on simple white trays and garnish with a lovely fresh flower.
Photo Credits
Jupiterimages/Brand X Pictures/Getty Images