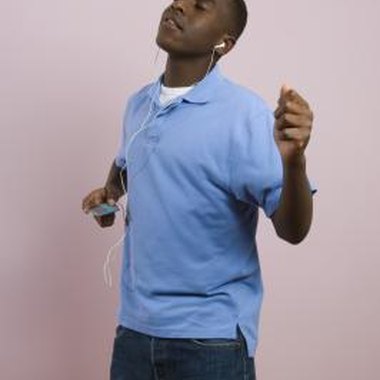 Transferring recordings from GarageBand to an iPod lets you listen to your recordings anywhere you take your iPod. It can be an easy way to show your recordings to people anywhere and anytime, without having to carry around your Mac laptop or desktop computer. Likewise, you can then use your GarageBand recording along with the other recordings on your iPod to make mixes. The easiest way to do this is by using the program created for use with the iPod, iTunes.
Items you will need
GarageBand

iPod

iTunes

USB cable
Step

1
Open GarageBand and then the recording you wish to transfer to your iPod.
Step

2
Click the "Share" dropdown menu and select "Send Song to iTunes." A pop-up window will appear.
Step

3
Fill out the artist name, playlist and album name. Include the composer's name if you'd like. You can also choose to compress the file, which makes it take up less space. If you click the box to do that, you'll then get the option of compressing it using the AAC Encoder or MP3 Encoder; either will play on an iPod. You can also choose the audio quality. The higher the quality, the better it will sound, but the more space it will take up on your iPod's hard drive.
Step

4
Click the "Share" button and the recording will now be converted and sent over to iTunes. Be patient and wait until the process is finished.
Step

6
Connect your iPod to your computer using a USB cable. Sync your iPod to iTunes and the GarageBand recording will now be put on your iPod. Alternatively, select the recording within iTunes and drag it to the iPod icon on the left side of the window.
Resources
Photo Credits
Jupiterimages/Polka Dot/Getty Images