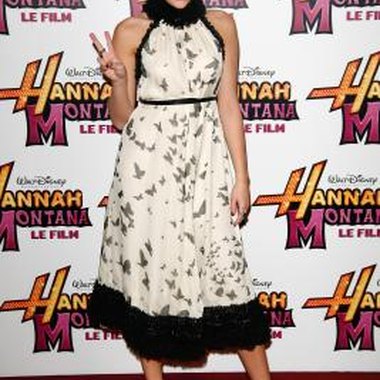 Parties with a theme are fun at any age and can include games, favors and decorations all related to the theme. Create a "Hannah Montana" themed party should it be your little girl's favorite program, and provide a variety of game ideas inspired by the Disney kids' show. Keep the games on the simpler side, as you are dealing with small children.
Art Games
Give the girls materials to create Hannah Montana art projects; make it a timed event. Determine a winner by either who creates an art piece in the shortest amount of time or by creativity level, or award prizes for both. Materials can include printed Hannah Montana images, pieces from Hannah Montana jewelry and key chains, booklets from Hannah Montana CDs, stickers and stencils. You can also award "participation" prizes to all the girls so those that did not win do not feel left out.
Dress-Up Games
Provide clothing inspired by the show for dress-up games. Select teams of three or four, with one girl as the "model" and the rest as her "stylists." The girls must race against the clock to dress up their model as either Hannah Montana, Miley Stewart or other characters from the show such as her best friend, father or brother. Use blonde wigs, brown feathered wigs, jeans decorated with faux crystals, lots of pink and purple tops and jackets, and microphones for such games. Award prizes based on who dressed their model the quickest.
Musical Chairs
Musical chairs is an old but simple and enjoyable party game which can be done to the tune of Hannah Montana music. Have a few Hannah CDs on hand so you do not have to use the same song over and over, and set up the chairs depending on how many girls are participating. If you want, decorate the chairs by taping Hannah Montana images and merchandise to the chairs. The girl left standing wins the game.
Dance Games
Play dance games to Hannah Montana tunes including talent show games, where each girl picks her own Hannah song to dance to and the winner is selected after each girl has a turn, though honorable mention and participation awards can also be given out. Another option is dancing to Hannah's songs until the music stops; any girl that is still moving is out. The winner is the last girl left standing.
Photo Credits
Julien M. Hekimian/Getty Images Entertainment/Getty Images