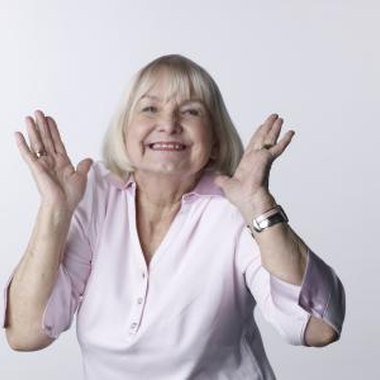 While many people around the globe are familiar with the Olympic games, fewer know about the Special Olympics and fewer still have heard of the Senior Olympics. The Senior Olympics, or National Senior Games, were started by the National Senior Games Association (NSGA) in1985 to encourage healthy living for seniors aged 50 and older through education, fitness and sporting events. Games are held every two years on odd-numbered years. Celebrate the spirit of the Senior Olympics with your own competitive events at a local park or community center.
Planning Your Games
Coordinate your senior olympics festivities with the bi-annual Senior Olympics hosted by the NSGA. Host your senior games at a community center or local park where you can set up a number of events. Hold an informational party the night before where you invite friends and neighbors to watch the opening ceremonies of the Senior Olympics. Pass around sign-up sheets for a few fun activities that will be held the next day. Close your games at the end of the day with a medal ceremony where winners receive certificates or medals. Encourage people to continue gathering weekly for friendly competitive events to stay active together, then make your senior olympics an annual event. Encourage people to represent your group by trying out for the NSGA Senior Olympics games. Get feedback from players after the games about what events they'd like to participate in the following year and consider organizing mental agility events like sudoku, word search or crossword puzzle competitions.
Horseshoes
MIrror your competitive events after real events held as part of the NSGA's Senior Olympics. Hold a horseshoe competition with a level sand pit, clay or grass area marked off for play. Place a metal stake 37 feet from the starting line. Provide horseshoes and instruction from an experienced horseshoe player on how to pitch horseshoes from behind the foul line in an attempt to ring the shoe around the stake at the other end. Set up an "elder horseshoe" pit to accommodate participants older than 70 with a stake placed 27-feet from the foul line. Paint the stakes white to make them easier to see. Follow the rules for play as established by the National Horseshoe Pitchers Association.
Shuffle Board
Offer single and double shuffle board events for participants to play. Follow the NSGA official shuffle board competition rules to set up your round robin tournament format with the exception of providing shuffleboard cues for participants to facilitate as much participation as possible. Determine a winner by the person or persons (in the case of a doubles competition) with the highest score after 12 frames.
Table Tennis
Hold your event at an area with at least one table tennis or ping pong table. Sign up participants in a round robin tournament format. Consider double-elimination as a way to allow people to play longer. Hold singles and doubles competitions, if desired. Provide paddles and ping pong balls. Encourage participants not to wear white shirts to make it easier for players to see the ball, or provide brightly colored ping pong balls. Determine game winners by declaring the first person to reach 21 points as the winner.
Photo Credits
Polka Dot RF/Polka Dot/Getty Images