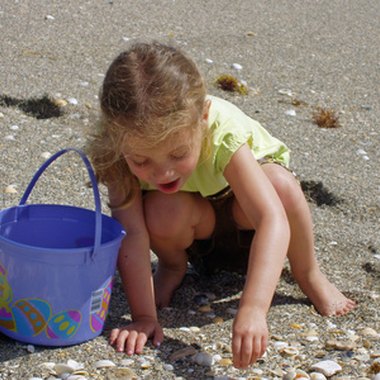 Located along the Gulf Coast of Texas and just 45 minutes from busy metropolitan Houston, Galveston Island has long served as a summer coastal getaway. Shops, restaurants and a slew of attractions line the beaches where people of all ages build sandcastles, search for seashells and swim in the warm Gulf waters. Several hotels are located on and around the beach, and many cater to guests with special travel interests or preferences, such as local history or luxurious surroundings.
Luxury
Located along the seawall in Galveston, the San Luis Resort Spa & Conference Center is an AAA Four Diamond hotel just steps from the beach. Guests can relax on the sand without getting into the car and enjoy ocean views from their private balconies. The Spa San Luis pampers guests with European- and Asian-inspired skin and body treatments. Beauty and salon services are also available at the spa, as is a fitness center. Both casual and fine dining are available on the property, and an outdoor heated swimming pool offers entertainment for all ages, with a water slide for the kids and a swim-up bar for the adults.
History
The Hotel Galvez opened in 1911 as a sprawling estate-like hotel. Listed on the National Register of Historic Places, Hotel Galvez played host to celebrities and dignitaries over the years and remains a popular destination today. Guests interested in Galveston's overall history can venture to the nearby Strand District to visit one of the area's museums and learn about the great hurricane of 1900 and its devastating effects on the city. Hotel Galvez is with walking distance from the beach and also houses a spa and restaurant.
Budget
The Quality Inn & Suites Beachfront is for families and tourists visiting Galveston's beaches on a budget. Nightly rates are lowest during the Galveston tourism off-season, but remain affordable during the peak summer months. The hotel's budget prices cover amenities including a free daily breakfast, high-speed Internet access and free local phone calls. The lobby serves complimentary coffee all day, and daily newspapers are available upon request. After a long day on the beach, guests can continue their water activities in the hotel's indoor heated swimming pool. Saving money is even easier for guests who want to prepare their own meals using their in-room refrigerator and microwave.
Attractions
Galveston Island's attractions expand far beyond the beach. Visitors who desire close proximity to the area's biggest attractions need not exclude a beachfront hotel. Casa del Mar Beachfront Suites is approximately two miles from Schlitterbahn Waterpark and Moody Gardens, a family attraction that includes an aquarium, golf course, spa, live shows and a 4D virtual reality theater. Back at the hotel, guests can relax poolside in one of two outdoor swimming pools or get some rest in one of the resort's 475-square-foot suites.
Photo Credits
Collecting Seashells image by Mary Beth Granger from Fotolia.com