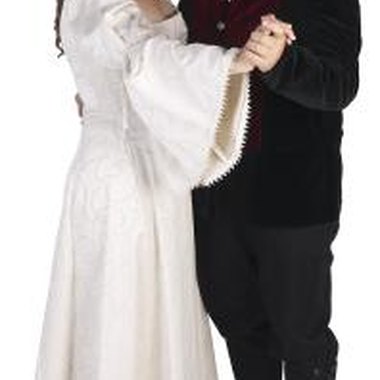 Do you and your fiance share a hobby, like rock climbing or astronomy? Are you movie buffs or gamers? Do you share a love of music? Are you foodies? There's no reason why your wedding invitation can't also celebrate those interests that brought you together. A humorous invitation will allow friends and family to enjoy the fun of your relationship. However, don't get so carried away with silliness that you forget common courtesy. Certain etiquette is required for even the funniest wedding invitations.
Acknowledge Hosts
Whether your invitation is shaped like the Death Star or printed on a golf towel, it is common courtesy to acknowledge those hosting the wedding. The host or hosts are generally those who foot the bill or have contributed in other ways. Often, this can be one or both sets of parents. An example of possible wording: Dan and Janice Brady Along with Rick and Renee James Invite you to the wedding of their children Marcia Eliza to Stephen Richard James
Date, Time and Place
While it might be fun to use cryptic or archaic language, you don't want to confuse your guests. If you're having a Star Trek themed wedding, giving the date and time as Stardate 64983.6 might confuse guests who don't belong to the Federation. You can easily use both standard and extraterrestrial dating systems on your invite: Saturday, June 25, 2011 at 11:00 in the morning Stardate 64983.6 If the wedding ceremony and/or reception are taking place in a location specific to your interests, make sure all your guests are in the know. For example, if you are getting married at a renaissance festival, don't simply say: Titania's Bower, New Market Village. Give the actual location: Titania's Bower New Market Village Texas Renaissance Festival 21778 FM 1774 Plantersville, Texas
Inserts
Your invitation can be as colorful and creative as you are. The inserts can match the overall design, but you'll want to keep them accessible for your guests. The RSVP card can look like a fortune cookie, but should still be able to fit into a self-addressed, stamped envelope. The directions can resemble a pirate's map to buried treasure, but should remain easily readable by landlubbers.
Gift Registry Information
Whether you are sending a traditional invitation or a message in a bottle, it is considered impolite to include gift registry information or a gift checklist. The couple should not tell their guests where they are registered unless they are asked. However, it is appropriate to give the information to the immediate family and the wedding party, and allow them to inform your guests about where you are registered or what you may possibly need.
Photo Credits
Hemera Technologies/PhotoObjects.net/Getty Images