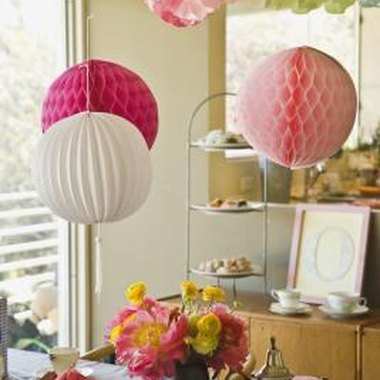 Though a traditional custom, the gathering of family and friends to celebrate the arrival of a new baby doesn't have to be ordinary. No rule states that you must stick to the customary pink and blue elements when choosing a theme for a shower. Choose from unusual and funky baby shower ideas to create a party the mom-to-be will never forget.
Ladybug Picnic
Create a picnic theme based around bugs. Make invitations with blank note cards and insect stickers purchased at a hobby or card shop. Fill new, clean,small plastic flower pots with chocolate pudding to make individual dirt cakes; top with chocolate cookie crumbs and gummy insects. Cover tables with red-checked tablecloths and use picnic baskets for centerpieces. Make ladybug salads by slicing tomatoes in half and sticking sliced olives on with toothpicks; serve on leaves of lettuce. Decorate the walls with butterflies cut from tissue paper or construction paper. Present guests with tulle bags that contain gardening gloves and seed packets for favors.
Groovy Baby
Choose tie-dye paper for your invitations; write "It's a groovy baby!" on the front. Decorate walls and tables with peace signs and flower power cut-outs. Cover tables with tie-dyed tablecloths and napkins. Create centerpieces with tie-dyed stuffed animals. Present the mother-to-be with tie-dyed outfits, blankets and diapers. Play '70s' children's music such as "Puff, the Magic Dragon."
Prince or Princess
Choose invitations with a castle or crown shape, or send a rolled parchment that says, "Hear ye, hear ye! New prince (or princess) arriving in the land! Please come to a royal event to celebrate their arrival!" Decorate tables with crowns, jewels and other royal accessories. Give mother-to-be a tiara to wear for the day. Drape chair with fabric for royal "throne" for the mother-to-be to sit in while she opens presents. Set out a wishing well in which friends and family can place notes of advice and well wishes. Bring a CD player so you can play a royal fanfare as guests arrive. Purchase plastic glass slippers from a wedding supply store or craft store and fill with mints for favors.
Wild West Baby
Make invitations in the shape of a cowboy hat. Write, "You are invited to a shindig to celebrate our new little Buckaroo!" Create lassos with twine and have guests try to rope baby bottles. Create centerpieces and decorations with ropes, cowboy hats and baby-sized cowboy boots. Use toys from animated western features as centerpieces and cake toppers.
References
Photo Credits
Jupiterimages/Brand X Pictures/Getty Images