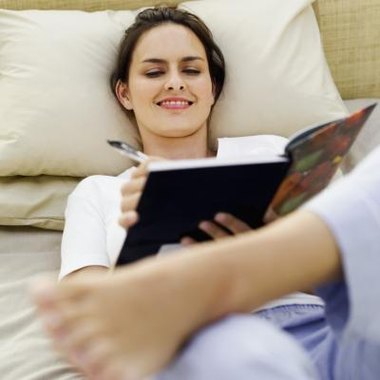 Though it's possible to mix things up with colors, fonts and design, a standard paper party invite or announcement can feel so dull. Get people excited for a big bash by announcing the party in a creative way, whether it means using the Internet or sending something in the mail that recipients will be eager to open.
Edible Invitations
Invite friends to take a bite of a delicious edible invitation when announcing your next party. Edible cookie cards from Lady Fortune are a sugary way to get all the details about an upcoming bash to guests, and each invite consists of a sugar cookie coated in white Belgian chocolate. The message is printed in the center of the cookie, surrounded by a frame of candy sprinkles. Various colors are available, making it easy to customize.
YouTube It!
Grab a video camera, and create a video party announcement. A video can be anything from a simple piece stating the time and place to an elaborate production with music and special effects, so get creative. Write a script which relates to the party's theme or perform a parody of a popular song, with lyrics about the pending celebration. Post the video to YouTube, and send friends a link via email to ensure everyone sees it.
Puzzle Invite
Put the pieces together with a puzzle invitation. The Party Invitations website creates miniature jigsaw puzzles that can be customized with any design, including an invite for an upcoming get together. In addition to all of the pertinent details, the puzzle can be emblazoned with pictures and art work, so think about the kind of imagery that best expresses the event, like a photo of the birthday girl or a snapshot from an engagement session, and design a custom puzzle.
Social Media
Use social media to announce an upcoming party, and alert friends and family with just a few mouse clicks. Under the "events" header in Facebook is an option to create an event, allowing users to list pertinent details like time and date and post photos. People can ask questions about the event online as well, making communication simple. For a short and sweet invite, announce it on Twitter, which limits "tweets" to 140 words, so be prepared to state only the basics.
Photo Credits
Stockbyte/Stockbyte/Getty Images