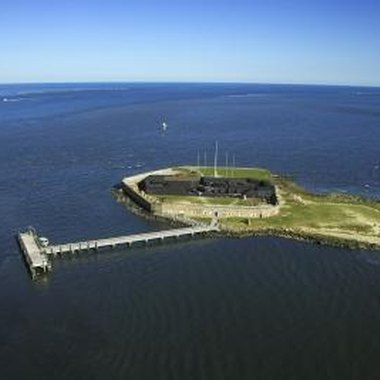 Known as the site of the first shot of the American Civil War, the Fort Sumter National Monument is a popular destination for history buffs and tourists. Located in Charleston Harbor in South Carolina, the Fort Sumter National Monument offers fun activities and sites for visitors of all ages. Fort Moultrie, a series of buildings established to defend the city of Charleston, South Carolina, is also a vital part of the Fort Sumter National Monument.
Fort Sumter Visitor Education Center
The Fort Sumpter Visitor Education Center is the hub of activity at Fort Sumpter National Monument. Here guests can read up on the history of the site and look out at the harbor where so much activity took place. The quaint Liberty Square is an excellent place to spend part of a visit, viewing harbor traffic and relaxing.
Fort Moultrie
For visitors to Fort Sumter National Monument, a stop at Fort Moultrie is a must-do. Guests can complete a self-guided tour through this historic fort, which is outfitted with interpretive exhibits that bring history to life. Fort Moultrie has a long active history, and 171 years of American coastal defense took place there, beginning with the Revolutionary War, all the way to World War II.
Outdoor Exploration
Fort Moultrie also offers a range of outdoor adventures to visitors. Boating, of both the motorized and paddle variety, are a fun way to explore this famous harbor. Fishing is welcome as well to sportsmen and novice anglers visiting the monument. On land, bird watching, wildlife tours and hiking trails are excellent means of exploring the area.
Living History Tours
Fort Sumter and Fort Moultrie offer periodic Living History tours throughout the year. These free events, held in the early evening by candlelight, are complete with period reenactors who bring the story of Fort Sumter to life.
Photo Credits
Thinkstock/Comstock/Getty Images