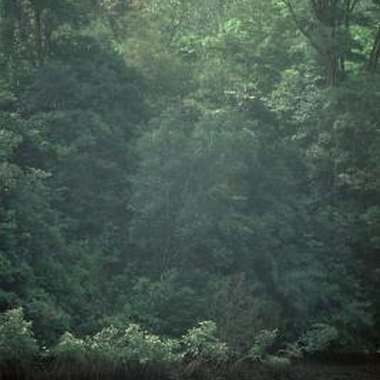 A small nation on the coast of western Africa, Sierra Leone has blossomed since declaring peace at the end of its civil war in 2002, according to Lonely Planet. Investments and tourism are growing and the country has much to offer visitors, from attractions in the capital Freetown to the natural wonders of its rural countryside, where exotic animals roam free.
Visit the Beaches of Freetown
Explore the beaches of Freetown, the capital of Sierra Leone, and get a taste of the country's unspoiled coastline. Described as "beautiful and breathtaking" by the Visit Sierra Leone website, the beaches are unexploited due to the country's nascent tourism industry, and visitors may have the beaches to themselves. The beaches are covered in white sand and set against a rolling mountain backdrop. Visitors may need to rent 4WD vehicles to access some areas, due to a lack of paved roads.
Explore the Tacugama Chimpanzee Sanctuary
Get up close and personal with wildlife at the Tacugama Chimpanzee Sanctuary (tacugama.com), near Sierra Leone's capital of Freetown. The sanctuary, founded in 1998, provides a home to chimps that might otherwise end up being sold on the black market as pets or food. Guests may drop by for the day to see the chimps and learn about the sanctuary, or they can rent a rustic lodge and stay overnight. For those who want to help, volunteer opportunities are available.
See Tiwai Island
Home to exotic wildlife, Tiwai Island is a small island rain forest and the center of a large-scale preservation program to keep its natural wonders safe from harm. Visitors to the island can take part in wilderness walks lead by experienced guides, paddle canoes through rivers and ocean and visit animal sanctuaries. Ecotourism programs on the island also benefit local African communities, helping them to support themselves and their families through protecting nature and sharing it with travelers.
Climb Mount Bintumani
Experience untamed nature by climbing Mount Bintumani, the highest mountain in Africa west of Cameroon, according to the Enjoy Sierra Leone website. Lead by professional guides, travelers may devote up to five days to climbing the mountain, taking in the sights along the way. The mountain is just over 6,500 feet tall and populated by rare birds, primates and buffalo. Along the way, cross woven bridges and explore exotic forests before setting up camp under the stars at night.
Resources
Photo Credits
Goodshoot/Goodshoot/Getty Images