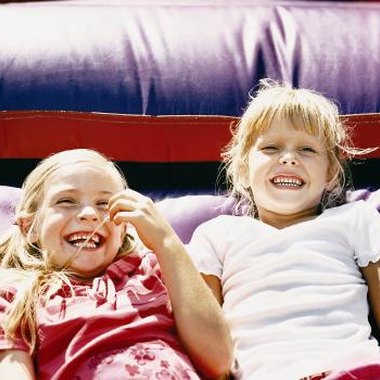 If your child's birthday is approaching, or your kids are out of school for the summer and you want to plan some fun outdoor activities for them, there are several items you can rent to help create enjoyable memories. These items can help to make your party theme complete and make for some pictures you'll definitely want to add to your child's scrapbook.
Bouncy Castle
Make your little one's birthday celebration even more enjoyable by renting a bouncy castle for the backyard. Many castles also come with features like slides or a pool of balls for children to jump in, which is perfect for a circus-themed celebration. Other bouncy options that aren't shaped like castles include large, inflatable pirate ships, also ideal for a themed party.
Dunking Booth
If you're planning a summer family fair, or your child wants a county fair theme for a birthday party, a dunking booth will help create a memory your little one won't soon forget. Tell your family members or birthday party guests to bring bathing suits or clothes they wouldn't mind getting wet in and let everyone take a turn throwing the ball at the target to dunk the person inside the booth. Provide prizes for guests who hit the target on the first try, like small toys or cookies, and take pictures of each person in the booth before and after being dunked.
Tents
Rent a large tent or two to provide craft or face painting centers for your little one's birthday event. For instance, if your little girl wants a princess theme, reserve one tent for professional face painters to adorn the guests with rosy cheeks or images of princess hats or flowers. Or, make an art-themed birthday celebration especially engaging for children by allowing them to create finger-painted masterpieces outdoors under the tent.
Popcorn or Slush Machine
Send each guest at the birthday party home with a tasty favor by renting a popcorn machine. Purchase classic red and white striped popcorn boxes and provide a number of tasty accents for guests to customize their popcorn treat. Condiments like cinnamon, powdered cheese and an assortment of candied nuts are ideal. Or, rent a slush machine to provide guests with sweet frozen treats for an outdoor summer party. Purchase flavored syrups in kid-friendly fruity flavors like strawberry, banana and sour apple to color the ice in bright, delicious hues.
Photo Credits
Digital Vision./Digital Vision/Getty Images