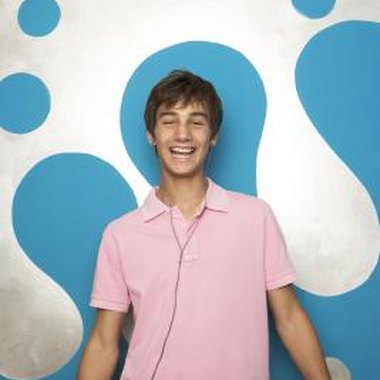 The capital and second-largest city in the state of North Carolina, Raleigh is an exciting place with plenty of ways to keep a 15-year-old entertained for days on end. Blessed with a mostly mild climate, Raleigh is rarely cold, and spring and summer are warm to hot, making outdoor spaces inviting for adventurous high schoolers. Raleigh is an educational and historic city, with everything from museums to parks to shopping to keep even the shortest of attention spans engaged and involved.
Go Shopping
Raleigh is an excellent shopping destination. Take your 15-year-old fashionista to Cameron Village (shopcameronvillage.com), the first shopping center in the Southeastern United States, which offers more than 100 shops, boutiques, cafes and restaurants. If you're visiting in September, make sure you don't miss FashionSPARK (sparkcon.com), a fashion design showcase for local Raleigh talent. Go to the Raleigh Denim Jeans store (raleighworkshop.com) to pick up a signature pair made only with denim from North Carolina, or visit Stitch boutique (hollyaiken.com) to browse local designer Holly Aiken's selection of handmade purses and bags.
Visit a Museum
Whether the 15-year-old you know goes gaga for history, science, or art, Raleigh has museums to appeal to every kind of auto-didact. Bring her to the North Carolina Museum of History (ncmuseumofhistory.org) for a crash course in local history -- "The Story of North Carolina" examines life in North Carolina from the earliest indigenous inhabitants to the local way of life in the 1830s. Go on to visit the North Carolina Museum of Natural Sciences (naturalsciences.org), where she can learn about prehistoric to present-day North Carolina with the help of the many live-animal and hands-on exhibits, both permanent and temporary. For the artistically inclined teen, the North Carolina Museum of Art (ncartmuseum.org) has expanded its original 1947 collection of 139 works of European and American art to encompass Renaissance and 19th-century art movements, Egyptian funerary art, Greek and Roman sculpture and vase painting, 18th- through 20th-century American art and contemporary art from all around the world.
City Market
Any capable 15-year-old with a sense of adventure can find some way to amuse themselves at Raleigh's City Market (citymarketraleigh.com). Stop by the Amplified Art Gallery to view local visual artists' talent, then get inspired at Artspace, a nonprofit visual arts center with an open studio. Get a new haircut at the City Market Barber and Style Shop, then have your teen pick up some fresh vegetables for dinner at the City Market Produce stand. Triangle Segway is also located in City Market, where you can rent a Segway for a guided tour of downtown Raleigh.
Parks and Recreation
For outdoorsy teens, Raleigh is bursting with nature trails, parks, and athletic opportunities. Anderson Point Park (no website; 20 Anderson Point Drive, Raleigh; 919-329-5994) has four miles of hiking trails and a playground overlooking a gorgeous view of the city and surrounding area. Teens can rent a kayak or canoe and drift down Crabtree Creek from one of the launch points located within the park. If your 15-year-old has a skateboard or inline skates, take her to Marsh Creek Skate Park (no website; 3016 New Hope Road, Raleigh; 919-996-4920), which was constructed in 2009 from concrete and boasts street, flow, and bowl options to suit her style. Skaters younger than 8 will need a parent or guardian to sign a waiver releasing the skate park from liability for injury.
Photo Credits
Goodshoot RF/Goodshoot/Getty Images