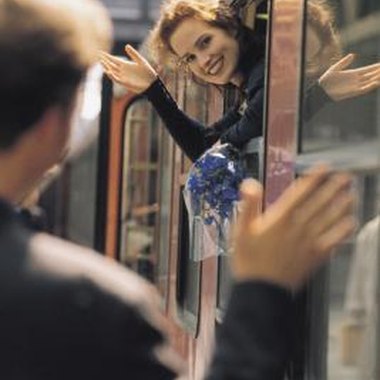 Just because you can't see each other all the time doesn't mean your bond is any less strong. However, it's even more important to be proactive in a long distance relationship. You both have to give and receive for a long distance relationship to work. Overcome the space between you by trying a few fun things to make you feel closer to your distant partner.
Make A Video or Audio Recording
If you can't be together as often as you want to, try exchanging a bit of each other via digital recording. Take a digital video of where you live, a video tour of your daily routines, or just a personal video message. To lull your beloved to sleep at night, make an audio recording that he can play at night as he falls asleep or travels to work.
Make Reservations For Your Partner
First, find the best massage therapist, hairdresser or restaurant in your partner's area. Then surprise her with your gift. Let her know that you've made reservations on her behalf. Giving your girlfriend (or boyfriend) the gift of an experience -- even if you can't share it with her -- will feel like a virtual date.
Send Gifts
Whether it be a shirt that you think would look good on him, a box of his favorite chocolates, or a care package containing a few hand-picked items, a gift by mail will make your partner feel cared about. Don't tell your significant other about the gift beforehand; let it be a surprise at his doorstep.
Write Letters
It may seem old-fashioned, but handwriting carries much more emotion than the black-on-white font on a computer screen. Grab a pen and some fancy paper, and write a letter. Make it a love letter, an "I miss you" letter, or just talk about your day. Spray the letter with your signature cologne or perfume for an added romantic touch.
Watch Movies Together
Make sure you both have copies of the same movie. (Try an instant-viewing movie subscription company.) Start the movie at the same time. Communicate during the show over the phone, using text message, or even by way of webcam. At the end of the movie, discuss how you felt about it.
Photo Credits
Comstock/Comstock/Getty Images