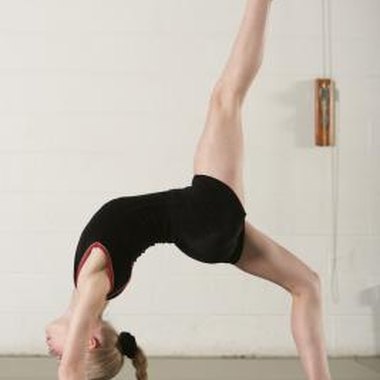 Children who love gymnastics class will typically enjoy gymnastic camp during the summer and/or other school breaks. Many gymnastic clubs offer day camps in the summer, and some also offer sleepaway camps for more advanced students. As a parent, it is important to keep track of the activities in which your child participates. Many camps will offer similar activities for children during their sessions.
Arts and Crafts
Many gymnastic camps also include a selection of arts and crafts as a break from gymnastics activities. The craft portion of the day helps children develop fine motor skills that help them with gymnastics. The exact crafts will vary depending on the camp and age of camper. Many of the crafts may relate to gymnastics, such as decorating a gym bag or gym shirt for use during the year or at the camp.
Gymnastics
All gymnastic camps will have a large assortment of gymnastics training for children. The children will learn different techniques based on age and skill. Most camps will offer a selection of tumbling, beam work, uneven or parallel bars, floor work, dance, cheerleading, boot-camp exercise and handspring classes. Some camps may offer more specialized training for more elite students. Ask your camp for more information on the type of gymnastic skills offered.
Sports and Games
Many gymnastic camps also offer sports and games for the children to play when not in gymnastic class. The games and sports will vary by camp, but most of the games are designed to promote teamwork and healthy competition. Some camps may offer team sports, such as basketball, football or soccer, for the children. Other camps may focus more on team-building games to foster creativity and leadership.
Water Activities
Overnight gymnastic camps will often offer water activities for children to participate in during free time. These water activities will vary based on the camp and age of children but may include water skiing, swimming, diving, inflatable play or water rafting. Some camps may also offer canoeing or other boating activities for children of different age levels. All water play is supervised by qualified life guards for maximum safety.
Photo Credits
BananaStock/BananaStock/Getty Images