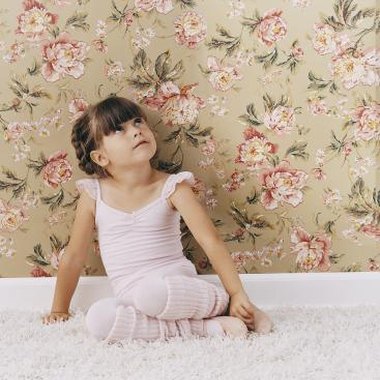 From the time the guests arrive to the time they leave, a ballerina slumber party can be filled with fun activities to create that perfect, special and memorable party. Fortunately, you need not break the bank to incorporate ballerina games and activities. Many simply don't need props, and those that do use common items found in the home. Those items that you do buy can often act as party favors, killing two birds with one stone.
Arrival
Give each guest a tutu when she arrives and announce her arrival. Blow a horn -- a plastic play horn will do -- and say, "Ballerina Stephanie has just arrived." Have the girls twirl and give a curtsey. All the other guests should clap with enthusiasm. Note that the tutus can act as party favors.
Jump Rope
Use the all-familiar rhyme "Teddy bear. Teddy bear. Turn around. Teddy bear. Teddy bear. Touch the ground" and change it around a bit to say, "Ballerina. Ballerina. Twirl around. Ballerina. Ballerina. Touch the ground." Other verses could say, "Ballerina. Ballerina. Arabesque" or "Ballerina. Ballerina. Take a bow."
Party Games
Change other familiar party games to incorporate the ballerina theme. For example, play "Ballerina Says" instead of "Simon Says." Guide the kids to give ballerina-type commands such as leap one time or twirl two times. Play "Pin the Tutu on the Ballerina" instead of "Pin the Tail on the Donkey." Play musical chairs, ballerina style. Play ballet music such as "Swan Lake" by Tchaikovsky and have girls twirl and tiptoe around the chairs instead of walk.
Other Ideas
Have the girls give curtseys and bows to each other at night before bedtime. This will be a fun way for all the girls to say good night to each other. In the morning, encourage them to put on a ballerina show. At the end of the show, give the girls a standing ovation and bouquets of flowers, which can also act as party favors.
Photo Credits
Digital Vision./Digital Vision/Getty Images