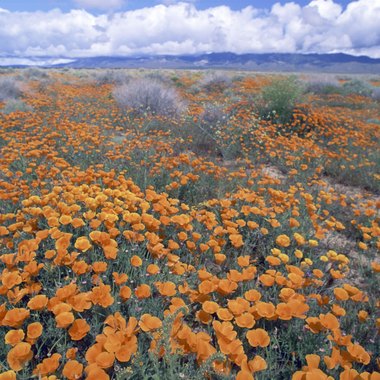 California's Antelope Valley is a closed desert basin that branches into both southern Kern County and Los Angeles County. Its secluded location has not protected the land or its indigenous populations from nearly 11,000 years of settlement by gold miners, cattle ranchers and state-funded railroad builders. In the 21st century, area amusements are built around history, culture and local and transient talent.
Treasure Hunting
The Antelope Valley Treasure Hunters Society (mysite.Verizon.net/res8ddr8/antelope_valley_treasure_hunters_society/id14.html) sponsors an annual three-day October fun fest featuring a chili cooking competition, a potluck dinner, a pancake breakfast and a 30-minute treasure hunt. Anyone can join the hunt with an entry fee. Participants pan for gold along Antelope Valley's Rocky Road. There is no guarantee that society members will help novices, and many regularly use metal detectors and perfected panning techniques.
Historical Appreciation
Antelope Valley residents and tourists can spend a day learning about the native American cultures indigenous to the area at the Antelope Valley Indian Museum (avim.parks.ca.gov). As of time of publication, children 12 and younger are admitted free, and a $3 entrance fee is accepted from everyone else. In addition to local pieces, the museum carries approximately 7,500 artifacts from all over California.
Music Concerts
Go see a concert at the Lancaster Performing Arts Center (lpac.org). Some featured musical styles are jazz, country, Mexican folk music and rock 'n' roll. Performers have both national and international fame. Local artists who are members of the Antelope Valley Community Concerts Association (avcommunityconcerts.com) perform there as well.
Soccer Matches
You can support the Antelope Valley Soccer Ambush (avscambush.org) team by going to a soccer match at the Lancaster National Soccer Center (lancastersoccercenter.com). The Ambush team trains local boys and girls to play in tournaments. Lancaster National Soccer Center boasts of being the largest soccer grounds in the western United States. Fans' needs are met by professional concession trailers and seven restrooms. The sports complex also features competitive lacrosse games.
Photo Credits
Jupiterimages/liquidlibrary/Getty Images