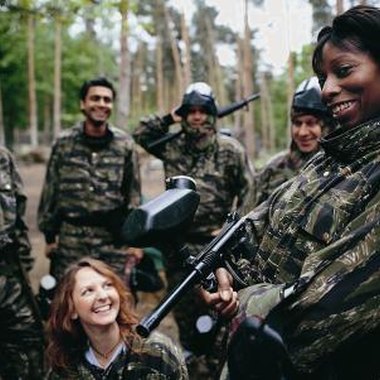 To plan a successful teen party for boys, you don't necessarily need to think outside the box, but you do need to plan ahead and think through the activities carefully. A teen boy can tell when you slap a party together and organize activities at the last minute. Consider what activities your teen would most enjoy, even if he hasn't tried them before. Then, modify the activity to fit the number of guests coming to the party.
Paintballing
Take the group to your local paintball course. Make reservations a month in advance. Distribute the necessary information to the parents of the invited teens. The parents will usually need to sign a "release of liability" waiver. The teens will also need to know how much money to bring and if they can bring their own paintball equipment.
Sports Competition
Choose your teen's favorite sport and organize a competition. Split the guests into two teams before the party. Adjust the teams as necessary if some guests don't make it to the party. Run the competition exactly as if it was a real game. Book a venue, such as a school basketball court or soccer field, if you can't play at your house. Offer a trophy or other prize for the winning team.
Outdoor Obstacle Course
Build an outdoor obstacle course using a rented inflatable obstacle as part of the challenge. Use the inflatable obstacle course as the beginning or end of the course by requiring teens to go through it when they start and finish the route. Set tires, scalable walls, a trampoline and other objects you have around the house to build the course. If you have lots of space, such as three or more acres, build a map and design the course to take up the entire property. Section the guests into teams and allow one team to run the course at a time. The team that requires the least time to get through the course wins. Rent only one inflatable obstacle to keep costs down.
Video Game Tournament
Choose three to five of your teen's favorite video games and organize a gaming tournament. Borrow an extra gaming system from a friend. Section the teens into to teams, one on each gaming system. After everyone has played, eliminate the person or persons with the lowest scores. Repeat until you're down to one teen, who is declared the winner.
Photo Credits
Digital Vision./Digital Vision/Getty Images