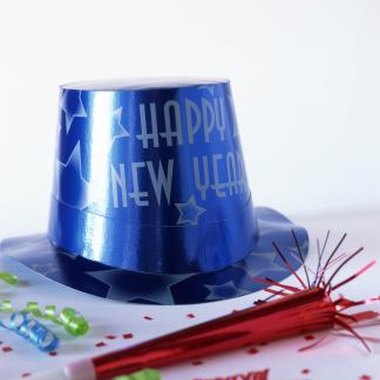 New Year's is a time for new beginnings and many people engage in festivities to mark this event. If you have children, don't let that stop you from celebrating. There are several ways you can include every member of the family in activities to welcome in the New Year.
Party at Home
Throw a New Year's Eve party at your home. Invite friends and family. Serve simple food, such as pizza, hot dogs, sandwiches and hamburgers. Decorate the house with streamers and balloons. Hang "Happy New Year" banners. Make sure everyone has a noisemaker. Ring in the new year at an earlier time for young children. Let the children blow the noisemakers and bang pots and pans to mark the occasion.
Eat Out
Go out to dinner on New Year's Eve with the kids. Let the kids choose the restaurant. Wear party hats while eating to add to the festivities. Ask each person to give a New Year's resolution. Don't forget to take pictures to mark the occasion. Alternatively, go out to breakfast or dinner on New Year's Day and ask each person to try one new food item in honor of the new year.
Try New Things
Take advantage of the new year to try new things or go new places. Make a list with your family, such as going to a new store or reading a new book. Ask each person to contribute something and mark New Year's Day by doing some of these activities. Alternatively, each person can dare one person to try something new, such as wearing a new hair style. The day will be entertaining as each person takes up a dare.
Games and Activities
Celebrate New Year's with games and activities. Play board games, such as Scrabble, Monopoly or Sorry, or card games. You can also play games such as charades. Add a twist to charades by portraying an event that happened the previous year, such as one kid learning to ride horseback. Give prizes for the correct guesses. Alternatively, for an evening activity, play a limbo game using flashlights. Play music and turn the lights off. Point a flashlight at someone, who will then have to limbo under the beam of light.
Photo Credits
Creatas Images/Creatas/Getty Images