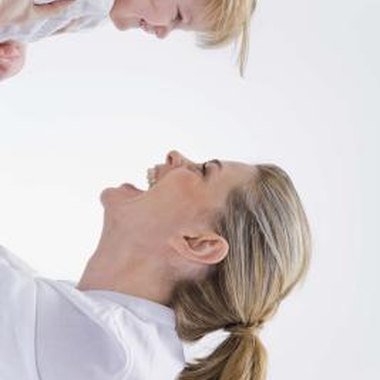 Your mother is the biggest fan you will ever have. No one can ever love or know you quite the way the woman who gave birth to you and cared for you during your most vulnerable and formative years can. Show your mother how much you love her and how much you appreciate all she does for you by spending time with her doing something fun for both of you.
Photo Albums
Looking through old family albums with Mom is a sure way to learn something new about yourself, your mother, your entire family and possibly see them in a brand-new light. Beyond just relishing the opportunity to relive past experiences with you and introducing you to long-lost relatives, just seeing your interest in the family will make her day. Better than rehashing old memories is making new ones; print pictures from family events and organize them into a new album together with Mom.
Reunion
Get in touch with some relatives, friends or neighbors your mother hasn't seen in a while and try to arrange a reunion. If possible, make it a surprise. Make sure food and decorations are taken care of ahead of time, so Mom will have nothing to worry about other than getting enjoying the company of old friends. Rather than sitting around while your mother has fun, invite some of your old friends too and introduce your mother to them. She will enjoy meeting people who are important to you.
Go for a Walk
A walk in the park is a simple activity with a lasting impact. Walk, talk and laugh together while enjoying the sights, sounds and smells of nature. Depending on your mother's age and what she likes, this can be anything from a nature hike to a casual stroll along a paved path. If you have kids of your own, bring them along for a nice, intimate moment with Grandma. Consider bringing lunch and stopping for a picnic on the grass.
Plant a Garden
If she is up to it, planting a garden will reap many years of quality time with mom. The act of planting and maintaining a garden gives you and your mother a project you can work on together, something new and beneficial that belongs to both of you. An additional benefit of a garden is the ample opportunity it provides to cook, share recipes and concoct new ones using the foods you have grown together.
Photo Credits
Jupiterimages/Polka Dot/Getty Images