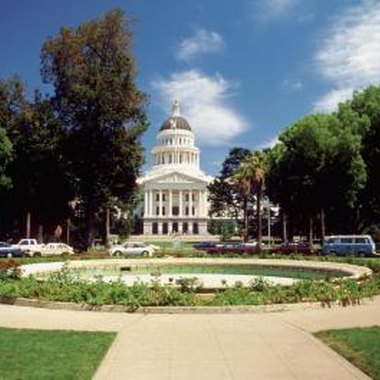 Sacramento has many options if you are looking to entertain your children. Sacramento parks, pools, museums and attractions give parents a chance to get their children out of the house for fun family-oriented activities. Sacramento museums offer entertainment with an educational twist and the city's outdoor activities get kids moving for fun and exercise.
Museums
Sacramento is home to many museums of special interest to children. The California State Railroad Museum (csrmf.org) is considered North America's most popular railroad museum. The Discovery Museum Science and Space Center (thediscovery.org) gives kids the opportunity to experience science and nature through interactive programs and exhibits. The Crocker Art Museum (crockerartmuseum.org) offers a variety of programs for parents and children and many are free with admission. The California Auto Museum (calautomuseum.org) appeals to car enthusiasts of all ages and is open to the public seven days a week.
Amusement Parks
Although Sacramento doesn't have any large amusement parks, there are plenty of smaller parks just right for families. Fairytale Town (fairytaletown.org) is a 2 1/2-acre children's park where fairy tales and nursery rhymes come to life. Funderland Amusement Park is a small, classic amusement part designed specifically for kids ages 2 to 12. Funderland features a roller coaster, log flume, carousel, train and other rides for only one ticket each. The Scandia Family Fun Center (scandiasports.com) has something for every member of the family with bumper boats, go-karts, batting cages, miniature golf and a video arcade.
Water Parks
If your kids like playing in the water all day, then Sacramento has parks just for you. Raging Waters at Sacramento (rwsac.com) features 13 different water rides and slides, plus a wave pool and water toys for kids of all ages. Just 17 miles north of Sacramento is the Golfland Family Fun Center (golfland.com). This park has a large number of water rides, slides and a wave pool. Thirty minutes northeast of Sacramento is the Folsom Aquatic Center (folsom.ca.us). This aquatic center offers season passes and has a water slide, wave pool and water toys for kids of all ages.
Zoos
Zoos in the Sacramento area offer a variety of experiences and fun for kids and their families. The Sacramento Zoo (saczoo.org) has games and activities throughout the park designed just for kids. The Folsom Zoo (folsom.ca.us) in nearby Folsom is open Tuesday through Sunday from 10 a.m. to 4 p.m. and most major holidays. The zoo is closed on Mondays for animal rest day. The Effie Yeaw Nature Center (msa2.saccounty.net) in neighboring Carmichael is an award-winning environmental and cultural education center. It is located within the American River Parkway and is a great place for hiking, picnicking and learning about animal and plants native to the Sacramento area. (see resources 5 and 6)
Playgrounds
Sacramento has many playgrounds available for families looking for outdoor playtime with their kids. The Arden Manor Recreation Park District (amrpd.org) is located within the Arden Manor District and has two playgrounds at their Jonas Larkspur and Crabtree locations. A part of the Sacramento Department of Parks and Recreation, The Del Paso Regional Park (cityofsacramento.org) located on Auburn Avenue offers ball fields, a sand volleyball court and an adventure play area playground for kids, with restrooms and food vendors close by.
Photo Credits
Medioimages/Photodisc/Photodisc/Getty Images