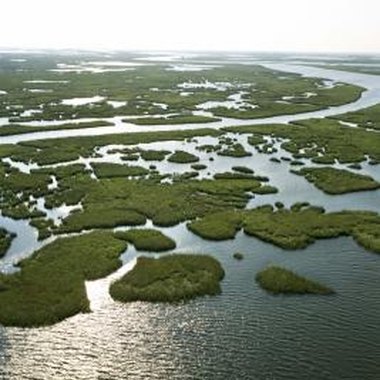 Mandeville, Louisiana is a small town of nearly 11,000 located on the north shore of Lake Pontchartrain, about 30 miles from New Orleans. While Mandeville's name recognition does not reach the exalted level of The Big Easy in most visitors' minds, you shouldn't assume there is nothing to do there. In fact, history and geography collide to provide diverse offerings such as the Mandeville Trailhead for the active tourist and the Dew Drop Inn, a dance hall that opened the very year American jazz was being invented across the lake in New Orleans.
Dew Drop Jazz Hall
The Dew Drop Jazz and Social Club (dewdropjazzhall.com) is a modest wooden dance hall that began attracting jazz musicians in 1895 and is still going strong today. History and music buffs alike will find much to admire in this building, with the notes of past musicians soaked deep into the simple walls. With an annual concert season that still draws crowds, try the Dew Drop for a taste of American jazz music.
Mandeville Trailhead
The Tammany Trace (tammanytrace.org) is a 31 mile stretch of an old railroad track converted into a series of trails for hikers, bicyclists and horse riding. The trailhead in Mandeville boasts a full block of activities that include an amphitheater, water parks, public rest rooms, Cultural Interpretive Center and picnic pavilions. Friday nights at the trailhead feature free concerts while Saturday mornings are reserved for a community market.
Obelisk Wine and Art
In an area recognized for Cajun culture, jazz music and scenic swamp beauty, the Obelisk Wine Bar and Art Gallery (obeliskwinebar.com) offers a taste of cultural refinement. Drop by to see the featured artist's works and sip a glass or two of fine wine.
Ruby's Roadhouse
"Car and Driver" magazine named Ruby's Roadhouse (rubysroadhouse.com) in their list of top ten roadhouses in the country. The Halloween party and Mardi Gras pig roast have been called legendary, and you never know when luminaries such as martial artist-turned guitarist Steven Seagal will drop by this century old building for a set. If authentic roadhouses are your flavor, Ruby's is a great place to check out.
Photo Credits
Jupiterimages/Comstock/Getty Images