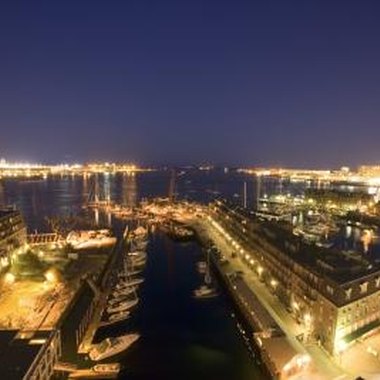 Massachusetts boasts many large metropolitan areas within its borders along with rural and rustic regions. Some birthday party hosts have specific spots in their areas which arrange all party needs. Other hosts use their imagination to create an engaging and interactive birthday venue. Massachusetts offers indoor and outdoor birthday party sites around the state to fit a wide budget range.
Energetic
Give young kids a chance to burn off energy for an enjoyable and energetic birthday party. Kids will stay busy for hours in a room full of inflatable toys where they can bounce, spring and jump to their heart's content. Jump It Up (pumpitupparty.com) of Shrewsbury in Worcester County has an indoor arena filled with inflatables where you can hold a kid's party. Jump It Up offers a number of party packages to fit different budgets and age groups. Jump In Fun (jumponinfun.com) has locations in Lowell, Haverhill and Woburn, providing party fun with inflatables and trampolines. Jump In Fun provides pizza for the refreshment portion of the party and encourages families to bring in a cake, drinks, snacks and any other food items that they wish to include.
Art
Encourage the kids to express themselves artistically at a art party. Art Beat (artbeatonline.com) in Arlington invites families to bring their birthday child and his friends to Art Beat to make a project and celebrate the birthday. At Art Beat, the birthday child selects the project and each guest works on his own piece during the party. Project options include glitter candles, tissue paper flower pots, Decopatch animals and picture frames. After an hour of work, the kids sit down to enjoy birthday refreshments. Beehive Art (beehiveartspace.com) in Sudbury has space for parents to join the kids in creating a group project or individual projects that will serve as mementos of the birthday party for the birthday child and his friends. Projects include wall murals, hats, crowns, wands, sculptures and printing. The staff leads the project which the family selects according to the age and developmental abilities of the children. The party ends with refreshments.
Teens
Keep your costs down and give your teen a sense of independence by creating a party at a location that allows the kids to enjoy the party at their own pace. Rent a community center room where the kids can play music, dance and eat as much as only teenagers know how. Towns and cities throughout the Commonwealth offer community center room rentals including Manchester in Eastern Massachusetts, Harwich in Central Massachusetts and Barnstable in Northern Massachussets. Many teens enjoy outdoor party venues. Have them meet at a local park or on the beach for a picnic barbeque. Bring the food and let them relax at their own self-organized party. Families living in Boston may bring the party to Revere Beach in Revere or Wollaston Beach in Quincy for an ocean swim before the food. Public parks throughout Boston with green party areas include Sullivan Square, Mary O'Malley, Foss and Wasgott.
Adults
Sit together with a group of friends at a friendly, elegant, ethnic or neighborhood restaurant to celebrate a birthday with a group of adults. Book a private room at the Grill on Main (thegrillonmain.com) for an elegant meal in the heart of Martha's Vineyard. The restaurant serves seafood, chicken and meats. Across the bay, Joe's Bar and Grill (barleyneck.com) at the Barley Neck Inn on Cape Cod specializes in fish and seafood dishes but will prepare a hamburger or pork potsticker if that's your fancy. Bring the party guests to Pazzo (pazzohof.com/privateevents) in Springfield for Italian cuisine in a relaxing environment. In addition to deluxe pizzas, Pazzo features other Italian dishes including fried calamari, tomato-basil bruschetta and tortellini.
Photo Credits
Thinkstock/Comstock/Getty Images