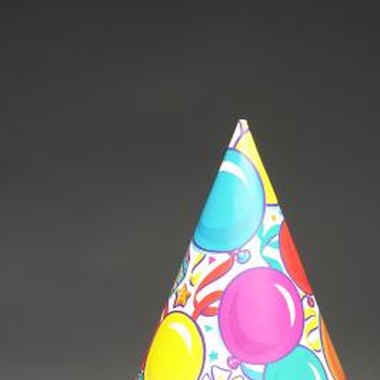 No matter where you live in Iowa, there is a fun place to throw a 2-year-old child's birthday party. One advantage of having your 2-year-old's birthday party at a party restaurant or theme park is no after-party clean up. The entertainment, games, food, cake and refreshments are provided for one price. Busy parents will appreciate the benefit of a party planner who takes care of every detail, leaving mom and dad free to enjoy the party with their child.
Indoor Playgrounds
The Playground for Kids (theplaygroundforkids.com), located in Ankeny, Iowa, Backyard Adventures (comeonletsplay.com) in Urbandale, or Monkey Joe's (monkeyjoes.com) in Davenport, Iowa, provide large, safe and enjoyable indoor play areas for birthday parties. Indoor playgrounds are a good choice for active 2-year-olds. The weather is never a problem when the party takes place at an indoor playground. There is no dirt, no bugs and rain won't interfere with the fun. Indoor play area parties can be booked one to two hours.
Ice Cream Party
Wells Ice Cream Parlor and Museum (wellsenterprisesinc.com) in Le Mars, Iowa, provides a private room for ice cream birthday parties. The Family Museum (familymuseum.org) in Bettendorf offers dinosaur-themed parties, pirate, princess or rocket parties that a 2-year old is sure to love. Ice cream parties are always a big hit with kids and adults. Over the Top (overthetopiowa.com) ice cream shop in Pleasant Hill, Iowa, serves healthy sorbet and 36 flavors of home-made ice cream in a huge private party room.
Chuck E. Cheese's
Chuck E. Cheese's is always a big hit with kids of all ages, especially 2-year-olds who love pizza and games. The little ones are separated from the bigger kids and can play in their own toddler area, which provides age-appropriate rides and games. Parents enjoy the party while a Chuck E. Cheese's party planner takes care of everything. Chuck E. Cheese's locations include Cedar Falls, Cedar Rapids, Davenport, Des Moines and Sioux City. Parents can visit chuckecheese.com to book a party online or to get location information.
Build-A-Bear Workshop
Build-A-Bear Workshop stores are located in Coralville at the Coral Ridge Mall, at the North Park Mall in Davenport and in West Des Moines at the Jordan Creek Town Center. Prices start at a mere $10 per guest and the children get to make their own bears to take home. The birthday 2-year-old gets a special gift from Build-A-Bear and a birthday photo to take home. All the party guests get party favors, too. Party planners help keep the little ones entertained and take them through building a bear from selecting their furry friens, to stuffing her and selecting a cute outfit.
Photo Credits
Hemera Technologies/AbleStock.com/Getty Images