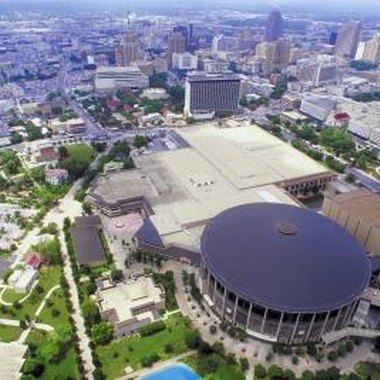 Celebrating a birthday as a young adult provides you with a wide variety of options for organizing a party with friends and family in the San Antonio area. CNN notes that San Antonio is one of the fastest growing cities in the southern United States. The city offers birthday party venues for young adults with varied interests and preferences.
Restaurants
Invite your guests to join you at your favorite eatery. Restaurants provide an enjoyable option for celebrating a birthday. Find a restaurant that serves good food but isn't costly. Many young adults are watching their budgets as they finish their studies, pay off student loans, start careers and care for young families. The Mi Tierra Cafe and Bakery (mitierracafe.com) serves a variety of enchiladas, fajitas, chalupas and flautas in a pleasant atmosphere. The Pasha Mediterranean Grill (gopasha.com) offers a varied Mediterranean menu that includes feta cheese, naan, dolma, hummus, baba gannouj and a falafel platter.
Parks
Meet at a San Antonio Park for a day of hiking, biking or walking to build up an appetite for a birthday picnic. The Apache Creek on El Paso Street has creekside hiking and several walking trails. Cathedral Rock Park on Old Grissom Road offers eight hiking trails and paved and unpaved bike paths. The North Segment of the Leon Creek Greenway has concrete, asphalt and natural surface trails, bike paths and pavilions where you can gather for a birthday celebration. Most San Antonio parks have picnic areas where friends and family can sit together for a birthday party.
At Home
Ask your guests to come to your house to enjoy a low-cost birthday party. Rent some movies for a movie night or play popular party games like Trivia Pursuit or Pictionary. Order in some food for a great party atmosphere. Big Lou's Pizza (biglouspizzaonline.com) will deliver its pizzas, pastas, calazones, wraps and other Italian food. If you feel like some Middle Eastern, Persian, Turkish or Greek food you can get carry-out from the Jerusalem Grill (jerusalemgrill.net) on San Antonio's West Side.
Dancing
Bring your guests to a San Antonio club for an evening of dancing. Ask for a table where you and your friends can sit together in-between dances. Cowboys (cowboysdancehall.com) offers catering, gaming, live bull riding, dance lessons and a lively atmosphere of fun and entertainment with a Western theme. Club Rive (.clubrive.com) has two dance options at its location on East Commerce Street. The Tabu Lounge (tabuloungesa.com) and the Sky Dome (skydomesa.com), located in the same building, provide a night of energetic dancing, drinks and dining.
Photo Credits
Hemera Technologies/AbleStock.com/Getty Images