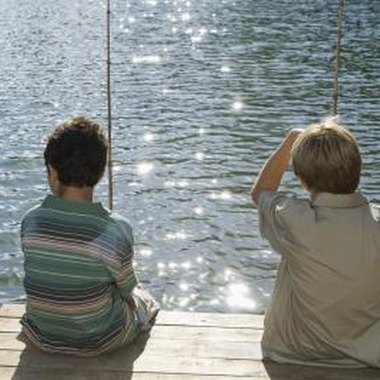 Known for its recreational areas, Louisville, Kentucky, calls itself a city of parks. And as of 2011, had plans for 4,000 additional acres of park inside the city limits. Encircled by the 100-mile Louisville Loops, a Parks Department shared-use foot and bike trail, the city lists 121 parks.
Jefferson Memorial Forest
If the kids like to camp, Jefferson Memorial Forest is worth a look. Less than 15 miles from downtown, this 6,218 acre park is pristine with 35 miles of hiking trails, a children's playground, bird watching sites and equestrian trails. There are camp sites as well as picnic tables available. Near the entrance is Wallace Lake, a well-stocked 5.5 acre lake where kids can fish.
McNeely Lake Park
If fishing appeals to your kids but you are just day-tripping, head over to McNeely Lake Park. At 746 acres, with 467 of those acres constituting the lake, the park is outfitted with a pier and boat ramp and the lake is well-stocked for those looking to reel in a few. For model airplane aficionados, there's a flying field. The park also has grills, hiking trails, a horse trail and a playground. McNeely also features areas for soccer, tennis and volleyball.
Cherokee Park
Along the Beargrass Creek Valley, you'll find Cherokee Park. Young archers will appreciate its archery ranges. It also boasts the Nettleroth Bird Sanctuary, which is along a 2.4 mile scenic trail. Cherokee has playgrounds for the little ones, a dog run for your furry friend, sheltered picnic tables, grills and a small lake. Kids might also want to play in the spray pool that operates during the warmer months.
The Louisville Zoo
Zoological Parks are usually a hit with the kids. The grown-ups can have a good time, too. In addition to the standard animal exhibits, the zoo features Friday night movies for all ages, train rides, which are included with admission, The Wild Ride, a 4-D theater, and summer camp programs. The crowd-pleaser is Glacier Run, an exhibit of grizzlies and polar bears constructed like an old mining town, where zoo staff interact with the animals.
Photo Credits
Jupiterimages/Pixland/Getty Images