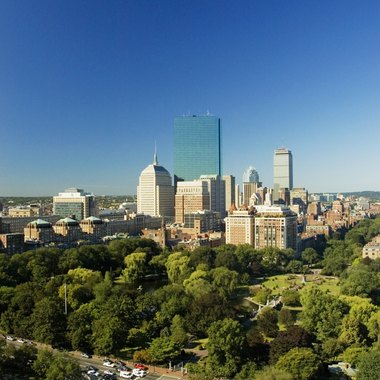 Massachusetts draws many tourists throughout the year due to its rich history, quaint islands and established attractions. If you are looking for something fun to do in Massachusetts on a rainy day, you will find plenty of options. From family-friendly museums and play areas to rock climbing walls and art exhibits, Massachusetts offers many activities that will appeal to everyone.
Museums
Massachusetts offers many museums focused on a variety of interests. In Boston, The Museum of Science provides interactive exhibits, electricity shows and exploration for people of all ages. The Children's Museum, fun for families with toddlers and young children, features different rooms where children can make bubbles, climb and jump, and explore the world with their senses. Salem, known for the witch trials in 1692, is home to the Witch Museum, where you can learn about Salem's dark history. The Cape Cod Museum of Natural History, located in Brewster, offers an educational overview of coastal animals, plants and sea life.
Play Areas
For families with active children, a day indoors can still be fun. Coco Key Waterpark in Danvers offers water slides, a wave pool and a tropical theme. Cape Codder Resort and Spa is home to another indoor water play area. It features an indoor wave pool and water fountains, along with a fitness center and two saunas. Imagination Island, an indoor playground in Plymouth, features tunnels, a bouncy house and ride-on cars for kids ages 1 to 8. The Klubhouse in Woburn is a similar indoor play area, with a racetrack, climbing structures and bouncy houses.
Local History
Massachusetts is rich with history from America's beginnings. The Plymouth National Wax Museum educates visitors about the Mayflower's voyage and its landing at Plymouth Rock. The museum also educates visitors about the reasons many people decided to leave England and venture to the new world. The National Heritage Museum in Lexington provides hands-on learning experiences and retells the stories of American culture. The Amherst History Museum documents the history of Amherst from colonial times through the present day. Artifacts such as paintings, tools, furniture and appliances can be seen in the museum.
Activities
Massachusetts also offers many indoor activity venues. The New England Aquarium in Boston features a penguin exhibit, a giant saltwater tank and tide pool area where you can touch sting rays, baby sharks, starfish and crabs. The MetroRock North Climbing Gym in Newburyport will satisfy your urge for adventure as you scale indoor rock walls. Animal Adventures Education and Science Center in Bolton has live animals, exhibits, shows and experienced staff to guide you in learning about different animals and their habitats.
Photo Credits
Medioimages/Photodisc/Photodisc/Getty Images